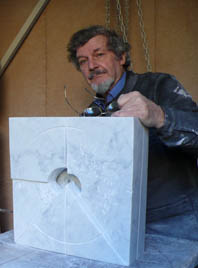 Resolutely abstract since ever, Louis THOMAS d'HOSTE's sculpture combines a quest for spiritual perfection with the seductions and the sensuality of forms, slowly conducted toward the roughness or softness of their marble skin. Here,  rigour and even essential simplicity of the shape is projected onto the stone since its initial conception. These sculptures soothe. They tell us about their author's calmness, gentleness and obstinate intention of celebrating life. They vibrate with a human and cosmogonic spiritual presence amplified in infinite echoes inscribed in the marble's delicate quivering. They invite the touch of a caress.
........
 We are very sorry to announce the death of Louis Thomas d'Hoste. Born in 1922, Louis was devoted body and soul to his art and has showed a serene conception of existence. He has never been his age and has always sung youth and life with optimism, even when he announced us, some time ago, the terrible disease that was finally to prevail. Also, we received the news of his disappearance with as much sadness as astonishment. Louis Thomas d'Hoste leaves a magnificent work, which fully agree his conception of existence.

Paris on February 7th, 2018.
Born in Paris in 1932. Louis THOMAS d'HOSTE lives and sculpts marble in the Paris region.
Studies: Académie Charpentier in 1948 and then to Ecole des Métiers d'Art from 1949 to 1952. He was destined to animated cinema when he discovered sculpture during these years of studies and in the Egyptian art rooms Of the Louvre Museum. He has been initiated to the direct cutting on stone in the workshop of Maurice De Bus.
In 1955, he founded and directed the Galerie du Seuil Etroit (now Shakespeare and C ° Bookshop) for two years on the left bank in Paris, where he exhibited his first works, then left for Canada where he remained for three years. Visited Mexico and Peru for several months. The vestiges of pre-Columbian civilizations reinforced him in the idea that stone can deliver the essential.
He has participated in nearly 300 exhibitions in Paris and throughout in France, as well as in Germany, Belgium, Italy, Canada, Asia... at the Grand Palais,  Musée Rodin,  Musée Bourdelle and  Espace Cardin in Paris, or at the British Museum in London...
The Academy of Fine Arts of Paris awarded him the sculpture prize Paul-Louis Weiller and chose him to be a resident artist of the Laurent-Vibert Foundation, Lourmarin Castle, Luberon, summer 2002. Finalist of the Prix Antoine Bourdelle in 1995 and 2001. Taylor Prize of the Salon des Réalités Nouvelles in 2012.
Louis THOMAS d'HOSTE working on La Nuit
available works by Louis Thomas d'Hoste

and some few small sculptures you can see at the gallery
Enregistrer
Enregistrer
Enregistrer
Enregistrer
Enregistrer
Enregistrer
Enregistrer
Enregistrer
Enregistrer
Enregistrer