K.VASILI - Philippe RILLON painters, Janine KORTZ-WAINTROP sculptor.
April 17-May 31
The "ART aujourd'hui" gallery explores the mythological dimension of art with three artists who awaken in us the memory of primordial myths. Their works are not objects but things which are looking at us and make us remember the pictures and stories that have always presented us mirrors in which the human condition is reflected. As myths, they reveal the mystery but don't deflower it. They interrogate more that they do answer the questions and they embody the universally shared imaginary world that is always out of time.
A subtle breadcrumb unites these three works, but at the door of the maze, we long to return and stay again in this world finally re-enchanted : Ancient Greece, rich in mythical characters before being the birthplace of philosophy, Africa, the land of all spirits and fetishes, and many other countries crossed by shamanism, seize the imagination of artists and whisper the secrets of magic to those who watch at the works.
K. VASILI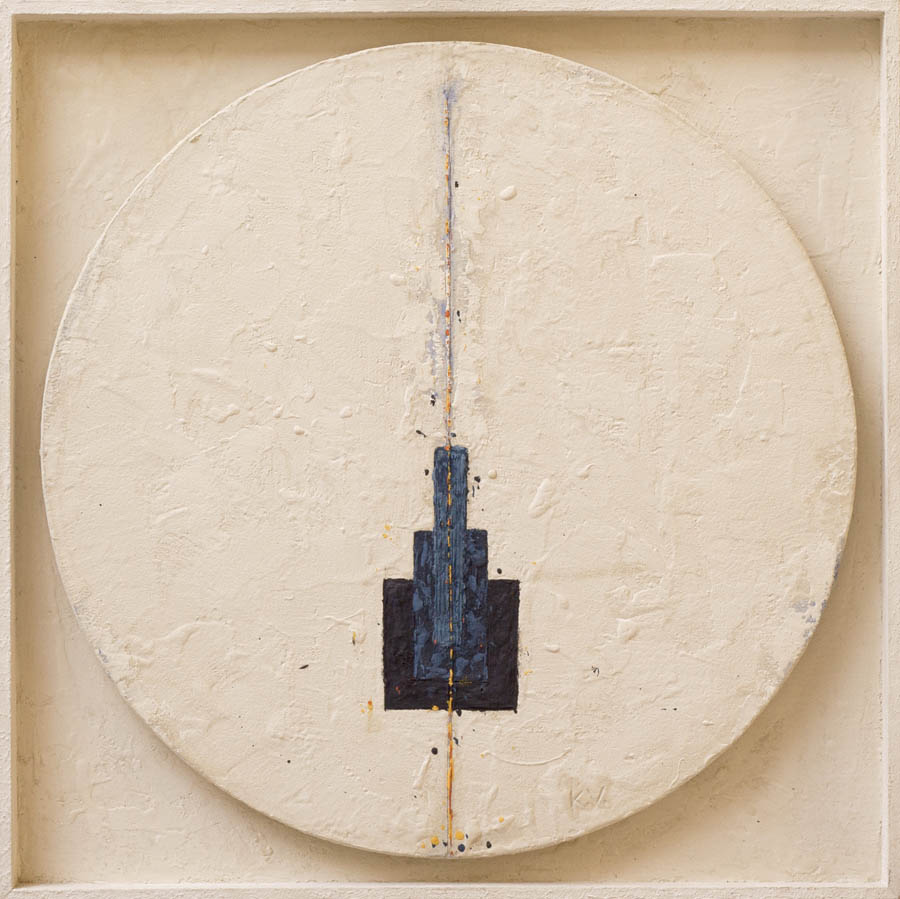 Zigourat, oil on canvas , diam 50cm.
The visitor in a hurry, first, will perceive rigour and austerity in the work of K.Vasili. Entirely done with moderation and restraint, always built around a central vertical line, deliberately limited to a minimum of shapes and colours placed on an ideal and primordial black or white background, within infinite variations always more subtly arranged. Better take the time to contemplation and to separate oneself from illusions and appearances. The myth of the Cave Plato, had already invited to turn oneself away from the sensible world, anecdotal, to reach the essence of things, the pure form beyond any particularity. The K.Vasili's paintings requires this effort. Its verticality and symmetry invites oneself to go beyond his single mind, and it recall us to an original vitality that approach to perfection. However the life is there, vibrating in the heart of the painting, body anchored to the form, it illuminates the picture of tasty pictorial material. And it is as if the sensible world and the intelligible world would be reconciled during the time, eternity, of a painting.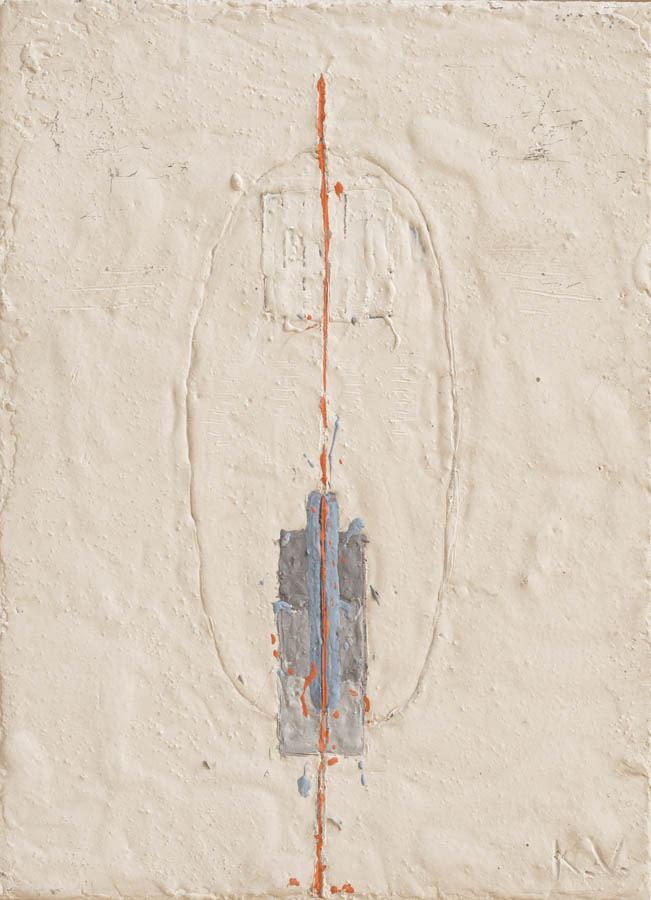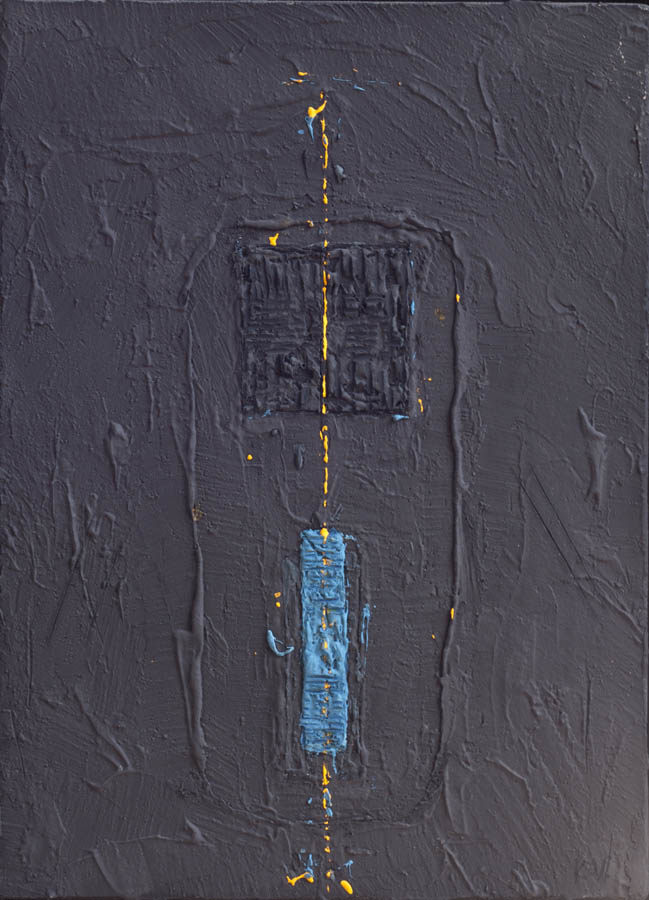 33x24cm (2x)
Philippe RILLON
Fragments of myths, ancestral rituals, Philippe Rillon as an African witch doctor who repeats the archetypal forms of his ethnic group, weaves and merges disparate elements that seem to emerge from a universally shared ancestral memory. The artist crosses through the wall of consciousness as he pierces, hurts and repairs the canvas, As an eternal dialectic of destruction and repair, which exists in nature, in history and here in the pictorial technique. But unlike Penelope who rebuilts in the morning what she has undid during the night, repair here is the act of creation itself. Stitching, braiding, weaving, unlikely materials: sands, powders and various loads, crushed egg shells, papers and glues of all kinds, evoke the cave of the alchemist or the hut of the witch doctor
However, no mannerism in this profusion of materials, but the ardent desire of averting the flee of time, endlessly questioning the mystery of existence by giving it an additional reality. Each painting, as a talisman, seems inhabited by a supernatural power. And the ghostly land of Africa is never far away.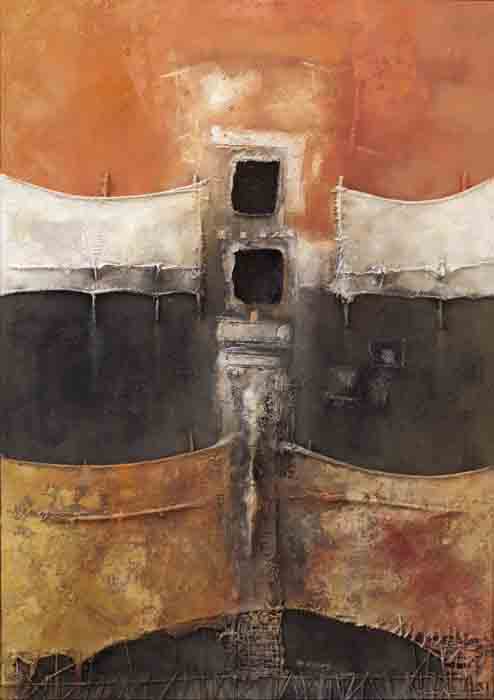 A feu et à cendres, oil and mixed medias on canvas, 162x114cm, 2012.

Janine KORTZ-WAINTROP
Janine Kortz-Waintrop has the soul of a builder. Inside of her robustly built mansions, doors, vaults, chapels, temples, mazes, watchtowers, bunkers erected on the borders of an unlikely desert, one may guess some mysterious and primordial rituals of the wait whose meaning has been lost forever.
The material is tough, worked by the primordial powers of elements and by the forces of time. As the shaman, Janine Kortz-Waintrop talks with chthonic forces of the earth and with the fire. Stoneware, bronze, stone are the materials of this dialog stripped of any affectation and who always requires a great demand which is far from any affectation
These forms, wounded palaces, are like those of Philippe Rillon, repaired and nursed with dexterity and tenderness. They keep the scars of time. Janine Kortz-Waintrop emerges a subtle fragility out of the roughness of the material as a beauty of the imbalance.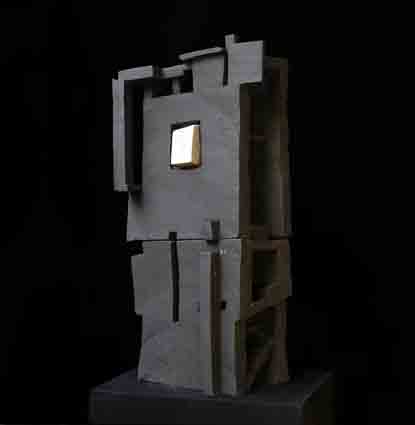 Construction, 100x45x30cm, 2010.
Biography's
K. VASILI
Born in 1942 in Greece , lived in Yugoslavia from 1948 to 1964 where he studied art .
A Paris since 1967 , he opted for French nationality.
Founder member of the association " La Peau de l'Ours ".
Exhibited regularly since 1966 in France and abroad , in various galleries and museums including Galleries: The Ingres Court - Nichido ( Paris ) , Santo Stephano - Novara (Italy) and museums : National Museum , Belgrade , Museum of Rochefort etc. ...
Many private and public collections including the Museum of Modern Art National Museum of Skopje and Belgrade. ...
Philippe RILLON
Born in 1949, studied at the Beaux-Arts in Paris. Numerous solo exhibitions in France and abroad including: - Gallery Visconti, Paris from 1984 to 1995 - Gallery Florimont Lausanne from 1994 to 2001. .
Other solo exhibitions in Rouen (D. Duchoze ) , Aix en Provence , Amsterdam, Paris etc. ..
Numerous group exhibitions and participation in Fairs: Automne, Mai , Comparaison , Jeune Peinture , Montrouge, MAC 2000 , Itinéraires ...
Founded the association " La Peau De l'Ours " in 2005 and has chaired it since .
2013: participated in the creation of the "ART aujourd'hui" gallery.
Works in public collections :
National Fund for Contemporary Art , Paris .
Hotel de la Monnaie, Paris .
Museum of Hecho (Huesca , Spain).
Cities: Gagny , Saint Ouen , Clichy sous Bois (93) and Champigny sur Marne (94).
Janine KORTZ-WAINTROP
Born in 1964 in Germany, since 1983 lives in Paris. Graduate ENSBA 1991 / LAP , Paris VIII University in 1992 .
She was invited in many countries since 1994 realized many sculptures in various symposiums and created monumental works in France, Burkina Faso, Cyprus, Syria, Egypt, Bahrain, Kuwait, Belgium, Italy, Portugal. She realized the baptistery of the Church of Our Lady of Pentecost in La Défense.
She exhibits regularly in France and abroad .
2014 Residence-research at the manufactory of Sèvres.
2013 Biennale 109, City of Arts , Paris (F) Price Rossini .
Some images of the exhibition: