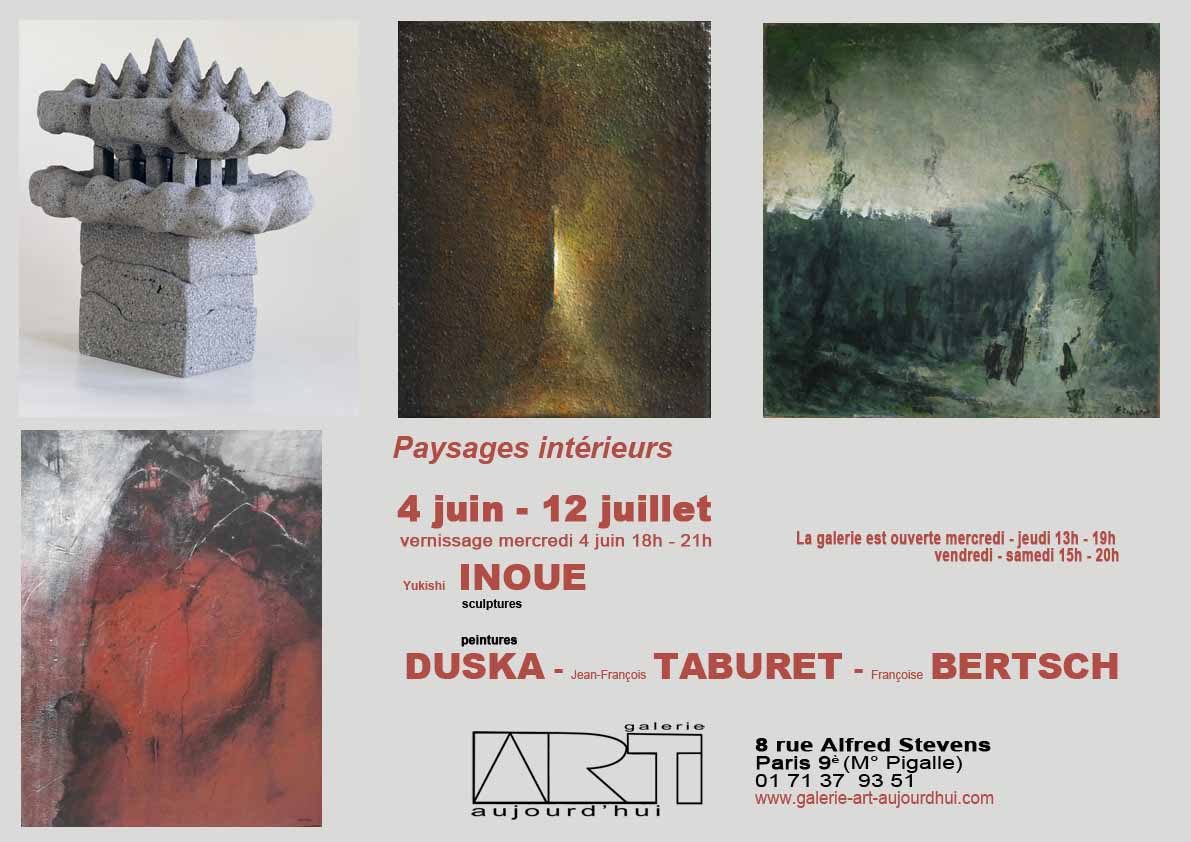 Françoise BERTSCH, DUŠKA, Jean Francois TABURET, painters,
Yukichi INOUE, sculptor
June 4-July 12
To see a landscape as the reflection of a state of mind, rather than as a viewpoint, is a commonplace of romanticism in literature and painting. To project one's inwardness upon nature is an essential feature of modernity in art. But the four artists we present are going far beyond the cliché. Each one in his own way exceeds the vis-à-vis with the landscape, each one gets rid of it, to vibrate in unison together with the nature. All dimensions of experience are implemented beyond the mere look. They set up a complete unity between subject and object, between " one's feeling  and feeling itself " ( "le sentant et le senti") according to the expression of the French philosopher Merleau-Ponty.
The "ART aujourd'hui" gallery joined these four artists to pay tribute to Henri Maldiney, an other phenomenologyst philosopher, for whom a work of art is always the revelation of a hidden truth. To look at a work of art is to co-exist with it. The work looks at us, speaks to us as we look at it. This fusion, confusion, is self forgetting and contemplation, far away from the images consumer's eye.
Françoise BERTSCH, DUŠKA, Jean -François TABURET (paints), Yukichi INOUE (sculptures ) fully meet this conception of art.
These artists do not reveal their inner landscape, but show how they assimilate themselves into the landscape. This is a "Copernican revolution" in which the centre is no longer the artist's eye, but the tensioning, the reciprocal movement between man and the world. The landscape becomes an inner garden where the artist stands inside the landscape.
Jean François TABURET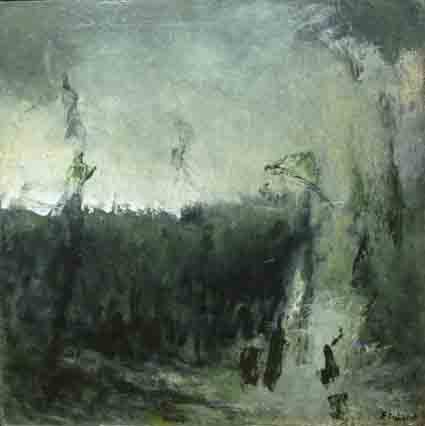 Jean François Taburet, Autour du paysage,60x60cm,2013

 " Don't stop the glance with the borders of the lines, shapes or colours. Allow the wanderings and offer different paths depending on the day and moods. Not to see, not to impose but to suggest"...
Everything is said in this passage of text by Jean-François Taburet. Seize the world out of its distinctive features. Space and light lead the paint. Taburet exceeds the objective materiality of natural elements to draw them inward the indefinite, as an opening toward all possibles.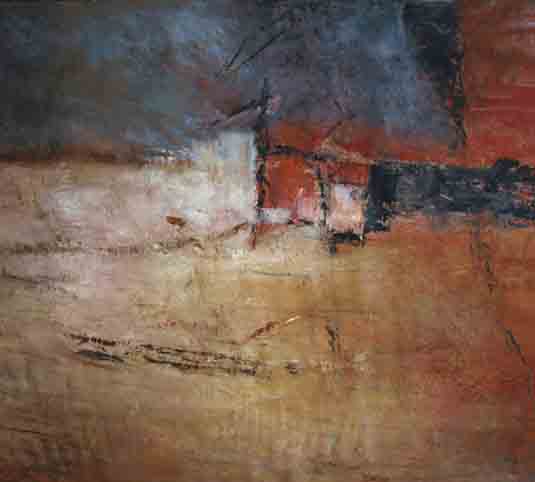 Jean François Taburet, Espace composé (02), oil/canvas, 70x70cm

DUŠKA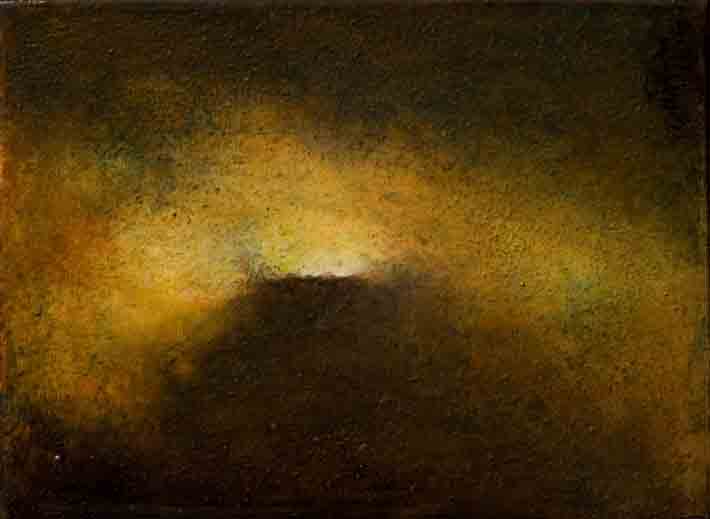 Duska, acrylic/canvas, 19x24cm

 Duska's landscape comes from elsewhere. Intense or soft light that illuminates her works is that of the Spirit which show itself in an enhanced and sublimated reality. Duska invites us on a journey beyond ourselves, seeking a spirituality in a landscape where the elements merge and thrive in a deep shadow from which flows like a flame the light of the soul. Duska's work is a call to meditation.
Françoise BERTSCH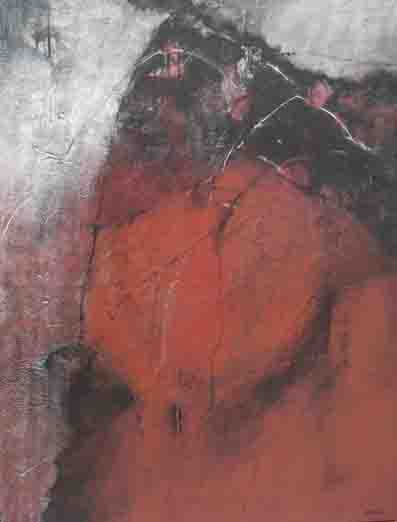 Françoise BERTSCH, La Montagne du Milieu, acrylique/ toile, 116x89cm

 When Françoise Bertsch paints landscape elements, she is mountain, rocks, earth, sea, river ... Her gesture is part of the main stream of life. The artist embraces the movement of things in their apparent sturdiness as well as within their impermanence.
"Montagne du Milieu", "Spirit of the Forest," "Song of the stone," these few themes that dominate the recent creation of Françoise Bertsch, reveal the intimacy that unites the artist with the world. And this reality, as if it had been unveiled, captivates and enchants our eyes and our whole being..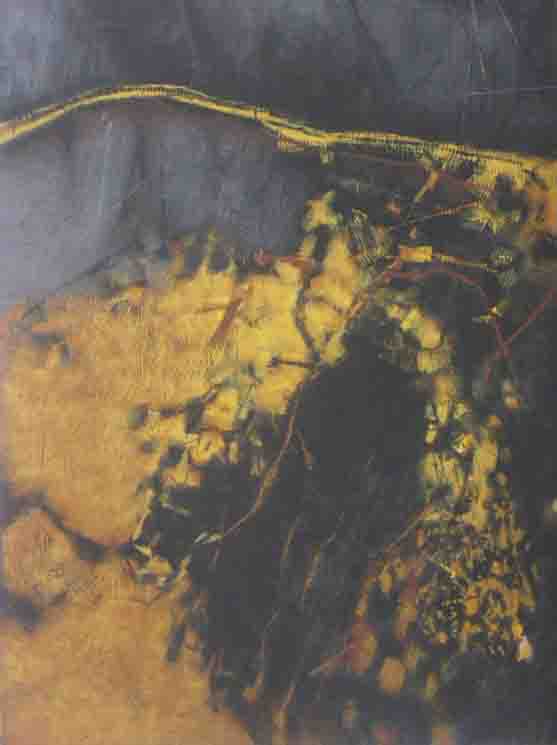 Françoise Bertsch, "Les rochers brisent l'or du couchant", acrylic/ canvas, 116x89cm.

 Yukichi INOUE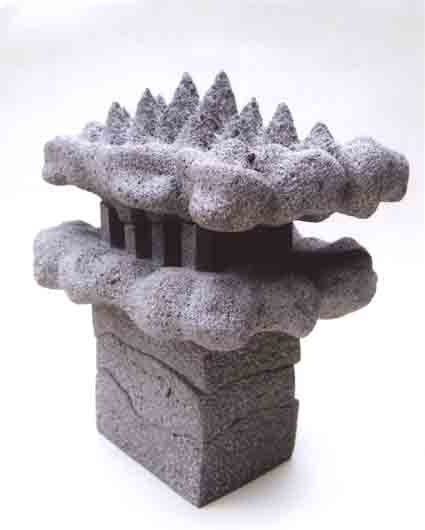 INOUE, Forêt Noire - Strates, pierre de Volvic, 47x42x30cm (photo R. Lebatteur)

 Y. Inoue takes hold of the landscape in its very substance. The direct carving in stone of Volvic is a physical confrontation with nature. But out of the strong power of the dialogue with this black, hard, and austere volcanic stone, emerges a spirituality, came from his native country. In Japan, the myth of the primordial forest is "the hideout of all ancestral fears ... (forest) in fact plays in the imaginary world of today's Japanese people the role of an original matrix." (Augustin Berque "Le sauvage et l'artifice", ed. NRF Gallimard)
 In France for over 40 years, Inoue keeps a secret relationship with his homeland. But, since the Forests and Landscapes we are showing, until the latest series of the 1001 heads, nostalgia is not the motivation of his work. The Spirit of the Volcano that he recognize in the Volvic stone, its telluric forces, still so much active in Japan, inhabits his sculpture. Thus, is he as a bridge between two cultures and two imaginary worlds that reawaken in us asleep feelings.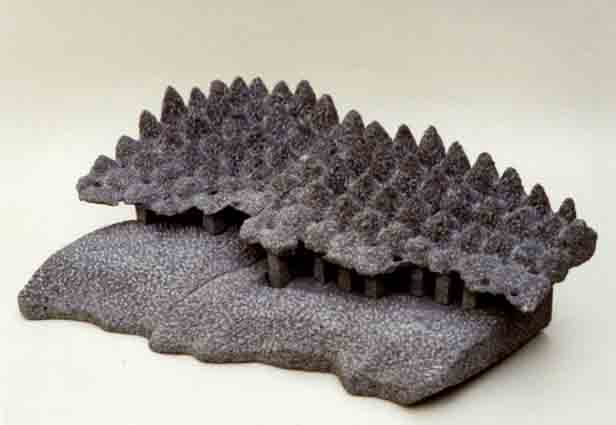 INOUE, Forêt noire, pierre de lave de Volvic, 70x50x25cm.

BIOGRAPHYS
 Jean-François TABURET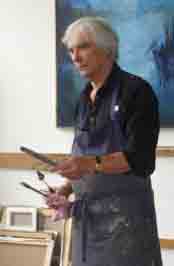 Painter and former teacher in Fine Arts in National Education.
Currently professor of painting in "La Charpente",  School of Art of the City of Saint Mandé..
From 1971 to 1977: Vice- President of the Union of Fine Arts in Montreuil .
Associate member of the Société Nationale des Beaux- Arts.
Member of the Taylor Foundation.
Exhibited since 1962 in France and abroad.
DUSKA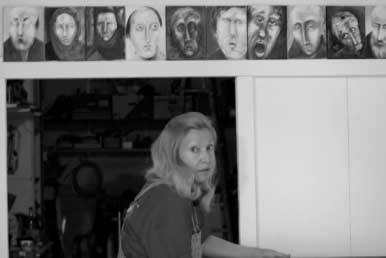 Duška has shown her work in numerous solo and group exhibitions in France,  Yugoslavia (Serbia - Montenegro - Macedonia), In Africa: Gabon - Guinea, Lebanon, China, Korea, Greece, Italy, Spain, USA, Canada, Japan.
Recent exhibitions: Gallerys: Valeurs d'art - Grand Etherna, Paris - Mairie de St Mandé - Biennale de Tinchebray - Centro Asturiano di Oviedo, Spain - O Museum, Tokyo - Museum of the Americas, Miami USA.
Collections: Caterpilar, Lebanon - Art Park, Rhodes, Greece - Centro Asturiano, Spain - Museum of the Americas, USA - Mairie de St Mandé (94, France) .
Participates in exhibitions, symposiums and international art festivals.
Françoise BERTSCH
 Françoise Bertsch lives and works in Paris and in Burgundy.
Graduate of the Ecole Nationale des Beaux- Arts, she studied in Bourges , Toulouse and Paris.
Teaching experience in Lille and Paris. Interventions in a cultural centre in Paris during six years.
In a game of personal signs, Françoise Bertsch seeks to seize the essential rhythms of the universe:  vibrations of the light, the movement of energy and time.
But it is also about, above all, without doubt, of the exploding, finally free, of her personality's arcana: shapes, colours, traces are organized according to the ballet of her drives, dreams and intimate myths. ( P.B. )
 Yukichi INOUE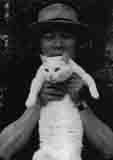 Born in Japan, he arrived in France attracted by the School of Paris, in the footsteps of Rodin and Bourdelle. Studies at the Ecole des Beaux- Arts, in Paris (HG Adam and Collamarini's studios)
His practice has always been direct carving out stone.
From 1972 to 2010, numerous solo and group exhibitions, 22 monumental sculptures carved out stone in France and abroad.
 Winner of André Susse Price in Salon de la Jeune Sculpture, Paris 1979.
Price of the Coubertin Foundation, Salon de Mai, Paris 2001 and 2010.
Price of the Pierre Gianadda Foundation, Fine Arts Academy, Paris, 2011.
Price of the Cino del Duca Foundation, Fine Arts Academy, Paris, 2014.
 some images of this exhibition: