Drawings: Christophe Biskup - Frédéric Brigaud - Georges Bru - Jean-Marie Cartereau - Nadine Cosentino - Jean-Marc Ehanno - Michèle Iznardo - Michel Madore - Gottfried Salzmann
Sculptures: Frédéric Brigaud
September 24 - November 1st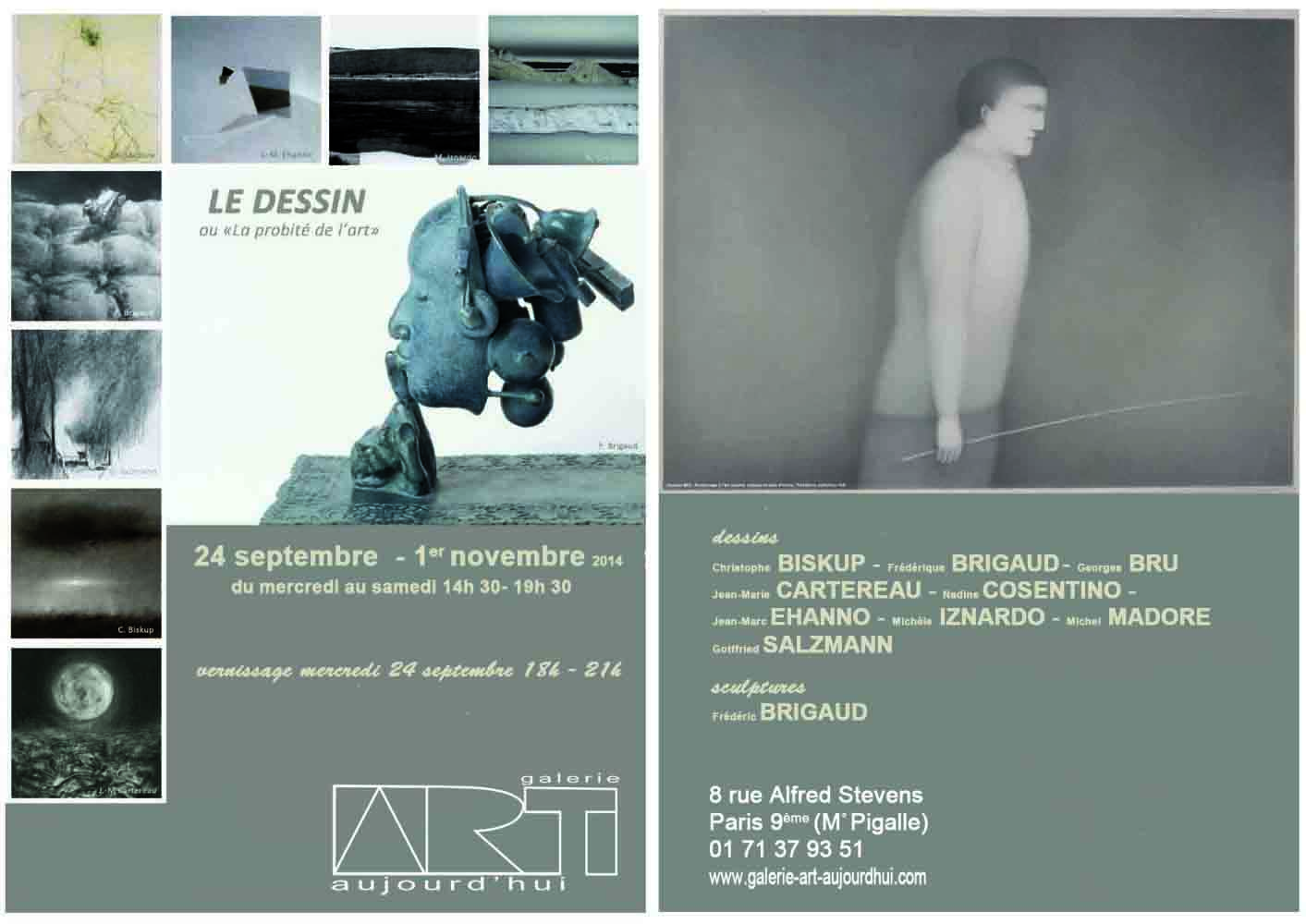 The exhibition is like a partial section in the contemporary drawing practice. It does not seek in any way to reconnect with a "neo-classicism" which has degenerated since a long time into a sterile academicism. So would it not be necessary to put a question mark after this famous quote from Mr. Ingres: "Drawing is the probity of art"?
The drawing has long surpassed its original function of a "project" (drawing and design are etymologically synonymous); it is nowadays exceptionally, practiced as a sketching technique, but has become an autonomous art, which is now exclusively sought for itself. Its borders with other form of art have faded without erasing completely its specificity. Since the Renaissance, amateurs of beautiful papers, beautiful sheets and fine works of art continue the tradition of amateur cabinets. The fragility of the drawing, and its often modest dimensions became paradoxically its main assets, to such an extend that, over the last few years, events and exhibitions dedicated to drawing have been increasing considerably all around the world.
Artists who practice the drawing exclusively are rare. Some have won the recognition of ever wider circles of amateurs. Among them we chose the nine artists who will take part in this exhibition.
And then, drawing remains the shortest and the most natural way to reach the aesthetic feeling. It is instantaneous aesthetic emotion, the one which does not lie nor cheat... because a good drawing appears immediately as an obviousness. The drawing testifies to the artist's authenticity, it is his test of truth, the integrity of his art.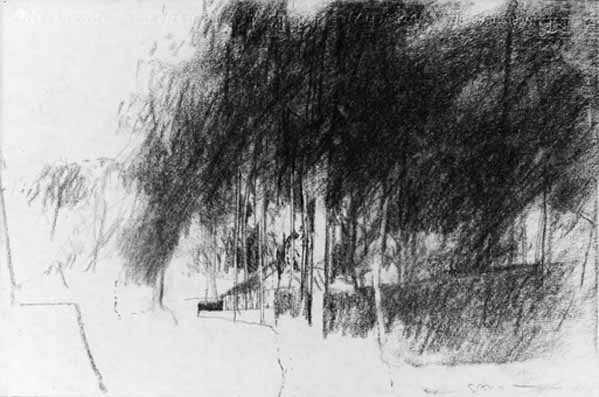 Gottfried SALZMANN
Gottfried Salzmann's charcoal drawings, more rarely presented than his watercolours for which he is internationally recognized, organize the game of light and shade by the contrast between values of black of the charcoal and the silky white paper. Thus, by drawing, he continues the dialogue with the motif that is the main feature of his art..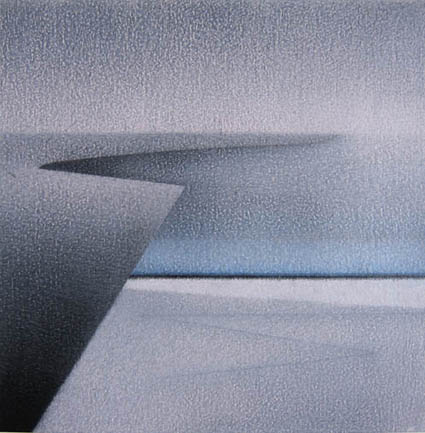 Jean-Marc EHANNO, Marinne grise et verte, pastels à l'huile, 36x36cm.

Landscapes yet, by Jean-Marc Ehanno and Nadine Cosentino, but as evoked from the borders of non-figuration. Colour plays discreetly its game, combining the sweetness of pastels with the refinement of the grey values in a slow and delicate blend of techniques. They proceed from the drawing but they already exceed it, to lead us toward the territories of pure creation fed with the singular poetry of their inner landscapes.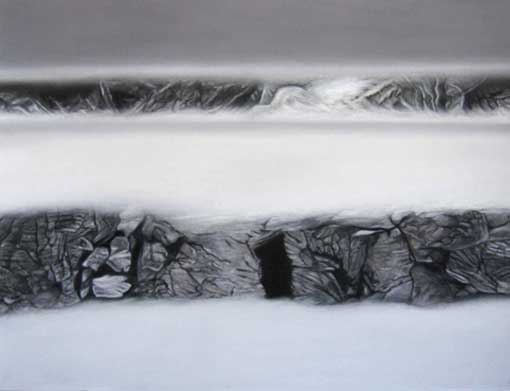 Nadine COSENTINO, De terres et de mers, 2014, 33x45cm .
Michèle Iznardo uses pencil, charcoal, black chalk and pastel, ink and oil painting, She practices collage and mixes too techniques and materials. Her strict economy of the colour allows her to interpret a partition sometimes serious, silent or slight in which are inscribed into powerful non-figurative compositions, distant horizons, as memories of Andalusia and Castile mixed with those of the great Spanish painting.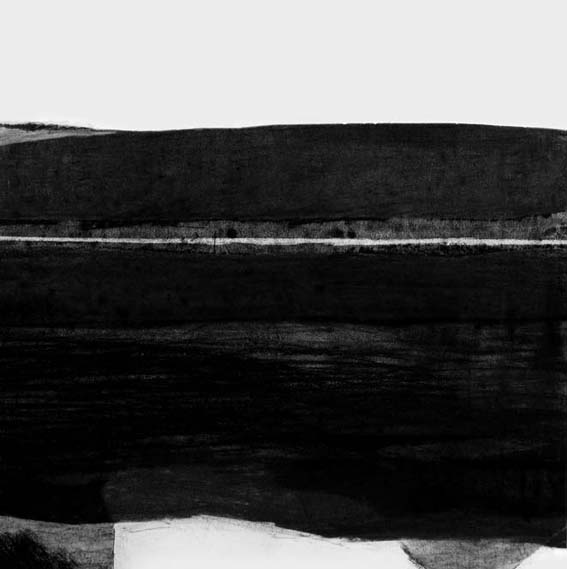 Michèle IZNARDO, Horizons, black chalk and charcoal/paper, 77x77cm

Christophe Biskup also evokes landscape in his drawings with charcoal and black chalk. They are like some romantic Nocturnes, where the near and the far vanish into the moonlight, while shadow spreads, the mist rises over the pond and the reason vacillates …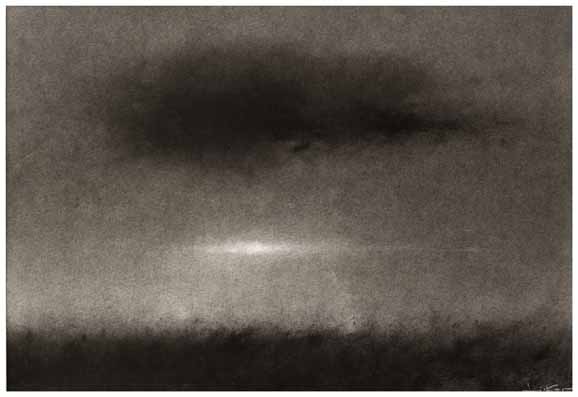 Christophe BISKUP, charcoal on paper 43x63cm.

The mysteries of being, between disorder and delicious faintness.
Georges Bru's work is so singular that it doesn't fit into any definition. He invents some amazing new processes of drawing and abandons them even before they turn into habits. His work is inhabited by unlikely characters in quest of their own existence. They fade away in the blurry shades of landscapes which are, as themselves, undetermined and unlikely. And everything remains on the fringes of reality, in the imaginary and blurry truth of the drawing.
Georges BRU, Personnage à l'air penché, ink-wash and pencils on paper, 75x100cm

Jean-Marie Cartereau, like his friend G.Bru, moves himself into the territory of the "uncanny" so dear to S. Freud and to the Surrealists. His drawings, as our nights, communicate with our dark side to flourish in the mangroves of the imagination, this in-between of all kingdoms.
"An alchemist draughtsman, a cook of the odd, the impossible and the improbable, in a permanent search, where imagination unfolds and is embodied by the quest for an adequate material, without any dogmatism or a priori. " (R. Bonaccorsi, "Bouillon de culture", exhibition Villa Tamaris, La Seyne-sur-Mer)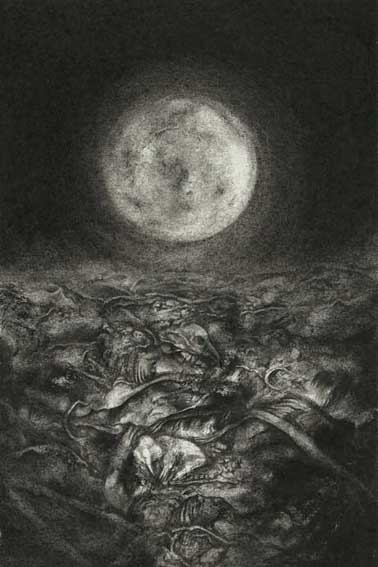 Jean-Marie CARTEREAU, drawing, 16x24cm

 Michel Madore records the fleetingness of the existence in the delicacy of a single charcoal line. One thinks of the scholarly painters of ancient China who aimed at painting with a single brush-stroke. Drawing is the painting. And Madore's line reflects this shuddering of life that comes and goes. It hesitates and breaks, gropes and fades away, just like the tiny trace that keeps the taste of time and brings us back to the memories inhabited by the bygone things and beings that were left in their incompleteness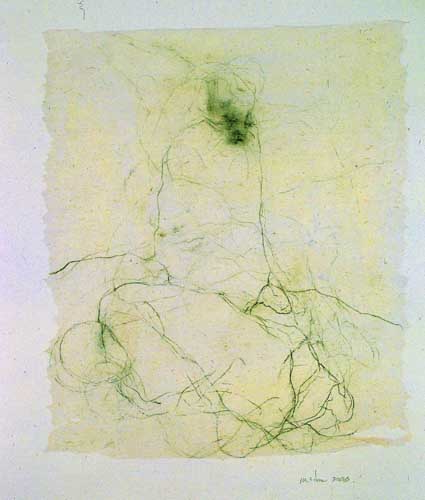 Michel MADORE, Un qui marche, l'autre qui dort, charcoal on paper, 134x95cm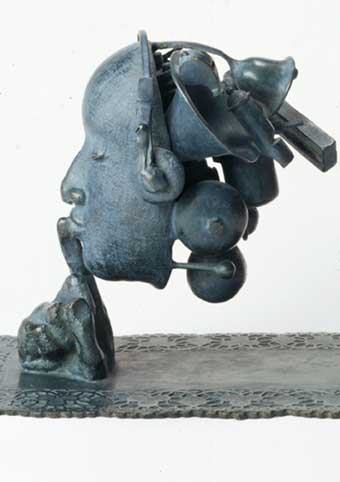 Frédéric BRIGAUD, "Chut..." bronze
Frédéric Brigaud is a sculptor and draughtsman who plays with the visual puns. He refers us maliciously to the cruelty of tales which, since the childhood, inhabit our fantasy. Former resident of the Casa Velázquez, he owns solid classical fundamentals. Brigaud meets the idea and the form of the sculpture through drawing...Then, the drawing gains its autonomy, and sculpture too... It will be the sculptor of this exhibition dedicated to the drawing...the probity of art.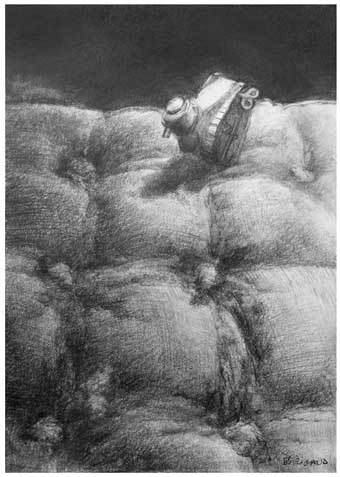 Frédéric BRIGAUD, A toy, Drawing

Biographies
Christophe BISKUP
Born in 1960 in Poland, he lives and works in Paris since 2002. Works in permanence at the ART aujourd'hui Gallery.
Painter, draughtsman, for several years he has refocused on the drawing to explore every expression resources given to him by charcoal and paper. If one were to define his creation with a single word it would be the touching. He gets rid of the superfluous, limits his features, leaving only the essence, to hear the penetrating music of the silence.
Frédéric Brigaud
Born in 1944. Lives and works in Paris. Classical high school and Ecole Nationale Supérieure des Beaux-Arts, and Casa Velázquez, Madrid. Aggregation of fine arts, teacher ENSAAMA (Olivier de Serres).
Numerous individual and group exhibitions since 1971 in large rooms and galleries in France and Europe. Works in private collections: Paris - Versailles - Reims - Geneva - Zurich - Bonn - Brussels - Charleroi - Amsterdam - Utrecht - London - New York - Los Angeles - San Francisco. And permanently: galerie Tempera, Beaune (since 1991) - galerie Art aujourd'hui, Paris (since 2013).
I'm not interested in the old stories that I evoke ... My purpose is not to tell and even less to illustrate, I'd rather say that my sculptures are some kinds of rebus ..... a little song rises, confused, almost inaudible, beyond appearances she talks about us, what happens to us. (FB, extracted from a catalogue preface, 1985)
Georges BRU
Is a draughtsman and painter born June 2, 1933 in Fumel in the Lot-et-Garonne, (France). He was professor of drawing at the Ecole des Beaux-Arts de Toulon. Lives and works in Toulon.
Exhibitions: Galerie Chave, Vence. - Musée Toulouse-Lautrec, Albi, 2000 - Georges Bru, Sordini Gallery, Marseille, 2005 - Galerie d'Ys, Brussels, 2007 - Villa Tamaris Art Center, La Seyne-sur-Mer 2008 - Georges Bru, Galerie Lefor -Openo, Paris, 2012.
Public Collections: Musée des Beaux-Arts, Bordeaux - Musée des Beaux-Arts de Lyon - Musée Cantini, Marseille.
Jean-Marie CARTEREAU
Born September 3, 1961 in Algeria, lives and works in Toulon.
In 1983 a scholarship enabled him to do an internship at the National Museum of Natural History in Paris, decisive for the future direction of his artistic approach to the work on the living and the artificial. Exhibits regularly in France: Marseilles, Biarritz, Montauban (Ingres Museum), Paris, and abroad: Netherlands, Canada, Germany, Portugal, Belgium (Lineart, Ghent). Now in private and public collections (Marseille - Toulon - Aix-en-Provence - La Seyne / Mer - Mie, Japan - Red Fox Press, Ireland).
Nadine COSENTINO
Spent her youth in the French Catalonia and lived in Nantes, Agen, and since 1976 in the Paris region. Married with the painter Jean-Marc Ehanno. Librarian by training, she resumed her studies in fine arts and is today dedicated to painting. She has a first solo exhibition in 1986 at "The Gallery" and since 1978 participates in many individual and group exhibitions including the "Salon des Réalités Nouvelles" and the Women's Biennale ... (and recently: Galerie Jonas, Cortaillod / Neuchatel (Switzerland) - August 24 to September 21, 2014)
Jean-Marc EHANNO
Born in 1942 in Lorient. Studies Applied Arts and obtains a Bachelor's degree in Visual Arts, Paris VIII. Lived in Nantes until 1972, first exhibitions. After four years in Agen he moved to Paris where he still resides with his wife Nadine Cosentino. Numerous solo and group exhibitions, including recently: Galerie Jonas, Cortaillod / Neuchatel (Switzerland) - August 24 to September 21, 2014.
Public Collections: Museum of Fine Arts in Nantes - Museum of Villeneuve-sur-Lot - Musée des Beaux-Arts de Lille - Fond National d'Art Contemporain, Paris.
Michèle IZNARDO:
Laureate in 1987 of the City of Paris, she won a scholarship awarded by the Casa Velázquez in Madrid. She then discovers landscapes of Andalusia, and settles in 1989 in Cordoba, then Castile. In 1988 and 1989 she participates in group presentations in Madrid and Cordoba Valdepeñas and had her first solo exhibition in Almería in 1990.
Back in France, Michèle Iznardo lives and works in Boulogne-Billancourt. Since 1993 she participates in numerous group exhibitions in Paris, Nimes and Strasbourg, Spain in Valencia (2002 and 2006), in the Salon des Réalités Nouvelles and several international presentations, Paris Art Show, in the United States in 2000, the contemporary art fair in Berlin in 2009, Lille Artfair in 2010, 2011 and 2012.
Michel MADORE
Born in Montreal (Canada) in 1949, he is a painter, poet and sculptor. He lives and works in Paris since 1977 and since numerous years travels and exhibits regularly in China.
Economy of means, paper, wax, charcoal, unbleached linen are the hallmarks of his work ...
Gottfried SALZMANN
Austrian painter, born 26 February 1943 in Saalfelden, near Salzburg, Austria. He lives and works in France since 1965. Salzmann studied from 1963 to 1965 at the Ecole des Beaux-Arts in Vienna and, from 1965 to 1968, the Beaux-Arts school in Paris. He paints in watercolour and is also a draughtsman, printmaker and photographer. Many personal exhibitions in Europe, USA, Philippines, Japan.
Works in public collections: Museum Albertina in Vienna - Museum of Modern Art of Rupertinum Salzburg - Salzburg Museum Carolino Augusteum - Oberösterreichisches Landesmuseum Linz - Essl Collection in Klosterneuburg, Vienna - Museum of Modern Art of the City of Paris - National Library of France - Museum of Seoul - Jenisch Museum of the City of Vevey - Liechtenstein Museum of Art - Metropolitan Museum of Manila.
G. Salzmann is exhibited permanently Galerie ART aujourd'hui since 2013.