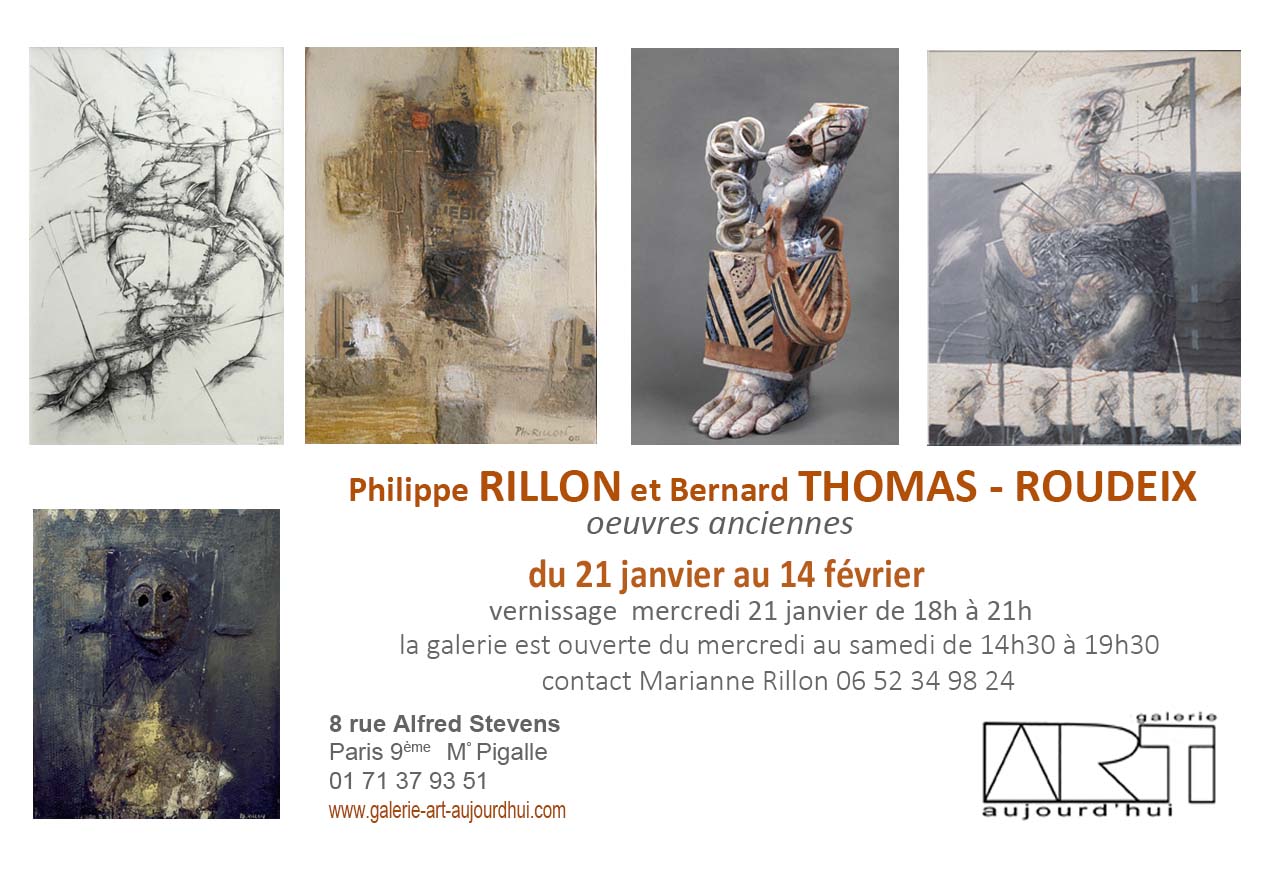 Philippe RILLON and Bernard THOMAS-Roudeix,
ancient works
January 21 to February 14, 2015
Bernard THOMAS-Roudeix is a painter and ceramist. Since the 60s, and the School of Fine Arts, his artistic path crosses Philippe RILLON's one, painter too, and, henceforth, artistic director of the gallery. Both are sharing a longstanding complicity. So it was obvious to give each of them, carte blanche to examine the development of his artwork, its permanencies and its variations. The exhibition will focus yet on the last fifteen years with an "accrochage" that will highlight the contrast effects between the two artists as well as between the different periods of each.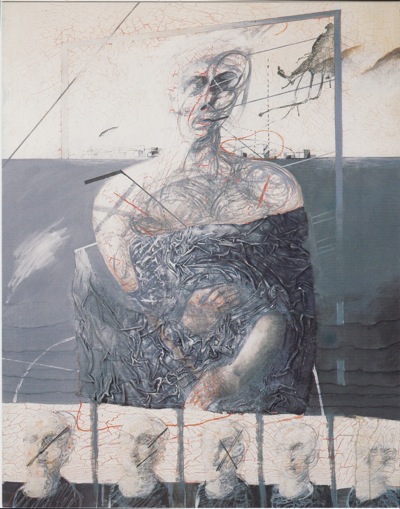 Bernard THOMAS-ROUDEIX Blessures du passé,
,

Bernard THOMAS-ROUDEIX is, since the beginning, unquestionably a figurative painter with an expressionist trend, a painter who never turns away completely from the figure and from the observation of nature. Thus his "landscapes", and particularly his watercolours, are rebuilding and reconciling perception, sensation and memory of observed landscapes. But we can just as well consider him as a "de-figurative" painter. With fierce determination to walk off the beaten tracks, he explodes to pieces his patterns in many modes of perception of past-present, near-far, imagination and reality, and these antagonisms, are jostling one on each other, in the exploding of our certainties. For, this affable man is also a caustic spirit, whose humour is always on alert, ready to reconcile the terms of any paradox. He is also a painter who arrived to ceramics, but remains still available to other adventures, like the illustration or the caricature drawing.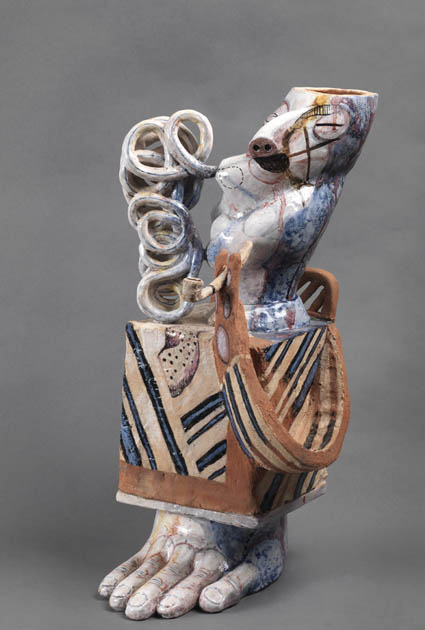 Histoire fumante, ceramic, 45x22x17cm

Singularly and joyfully anarchist, he considers however for his masters, first, the Italian Renaissance and the Flemish Primitives, then, CoBrA, Dubuffet and Art Brut when, during the 70s, everything still seemed to be possible, and then, Tapies, for the more reality that he brought, with the incorporation of crude raw materials within the painting, and, finally, Francis Bacon, when, in the 80s, humor and the heady feeling of permanent invention of freedom gave way to a more tragic view of the world. Long pauses for reflection arrived after the euphoria of spontaneity; and the ceramics appeared, as in order to continue the pictorial process in another perspective. Bernard THOMAS-Roudeix insists: He is not a sculptor, but a painter and a ceramist too. For him, "I" is always elsewhere.
Philippe RILLON has built his work through many periods and ruptures, as if, he had been wandering through dreamlike realms. He claims that this "in-between of all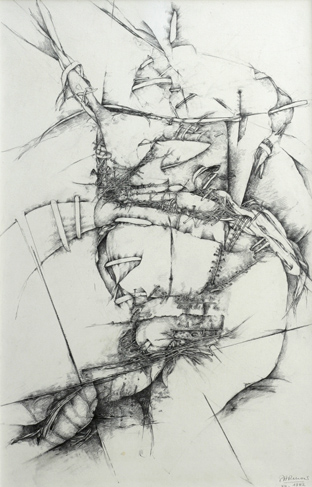 opposites, where the imaginary combines light and shadow, appearance and disappearance, balance and the fall, life and death, as are the top and the bottom of an eternal present. At equidistant between naturalism and formalism, he likes to
build some mysteries as in order to suggest that the essential remains hidden."
There have been, first, the influence of surrealism. Next, far from any narrative temptation, he has been paying close attention to the twentieth century's painting, from Klee and Kandinsky until the Informal. Philippe RILLON, knows well the fundamentals of his craft. He builds his paintings as if he were an architect. Yet his strong and obvious constructions paradoxically suggest a mystery that exudes and seeps out of crude raw materials. Named "Architextures" since 2005, they are made with painting mixed with textures, fabrics. At first, realized by drawing, and then, by integration within the painting of different materials, such as true sewing, weaving and other mistreatments inflicted to the canvas.
In front of the paintings he made around the beginning of the century, we are thinking to the ghost of Africa and to the magical powers of all these witnesses of a bygone era, when art had no need to be named. And Philippe RILLON concludes on his desire " to let some tracks, to give himself at least the illusion of a sustainable trade with eternity."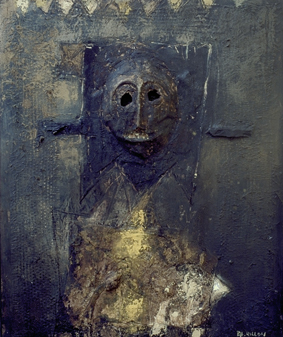 BIOGRAPHIES
Bernard THOMAS-ROUDEIX Born in 1942 Education: Ecole Nationale Superieure des Beaux-Arts in Paris. Lives and works in Paris.
Numerous solo exhibitions in France and abroad, including Galerie ART aujourd'hui "Dé-figurations" May-June 2013 - Gallerys: "Messine" - "Peinture fraîche" - "Art et patrimoine", Paris - Sèvres: "galerie du SEL" - USA, Ann Arbor: The Minotaur-art gallery - Luxembourg, Rodange, "galerie Recto Verso"...
Numerous group exhibitions including "Salons": "Mac 2000 - 109 - Mai - Comparaisons - Automne - ArtMetz - Puls'Art "
Public Collections: "Hôtel du département", Rouen.
Illustrations in various reviews and collections of poetry. Interview France-Culture Michel Chapuis I984, 1988. Price of the Taylor Foundation (June 2012)
Permanently: "Galerie ART aujourd'hui" (Paris) "Galerie Peinture fraîche" (Paris) "galerie Sirénade" (Dinan).
 Philippe RILLON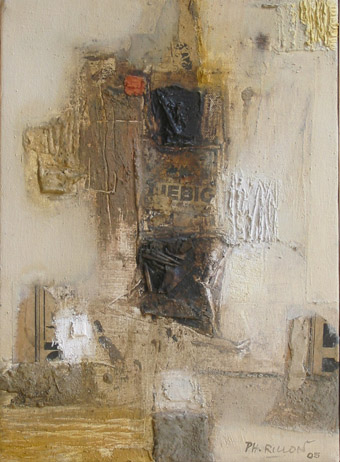 Born 1949, studied at the National Superior School of Fine Arts in Paris.
Numerous solo exhibitions in France and abroad, including: "Galerie Visconti", Paris, from 1984 to 1995. "Galerie Florimont", Lausanne, from 1994 to 2001. Other solo exhibitions in Rouen (D. Duchoze), Aix en Provence, Amsterdam, Paris etc .. "Galerie Valeurs d'art", Paris, from 2004 to 2010.- "Galerie ART aujourd'hui", "Mythologies intérieures", April-May 2014.
Creates the "galerie ART aujourd'hui" in April 2013.
Numerous group exhibitions and participations in "Salons d'Automne, Mai, Comparaisons, Jeune Peinture, Montrouge, MAC 2000".
Public collections:
Fonds National d'Art Contemporain, Paris - Hotel de la Monnaie, Paris - Musée de Hecho (Huesca, Spain) - Cities of Gagny, Saint Ouen and Clichy sous Bois (93), Champigny sur Marne (94).
Present in G. Xuriguera's books (Mayer edict)
2006: Christian Noorbergen, Preface for the catalog for the exhibition "Architectures".