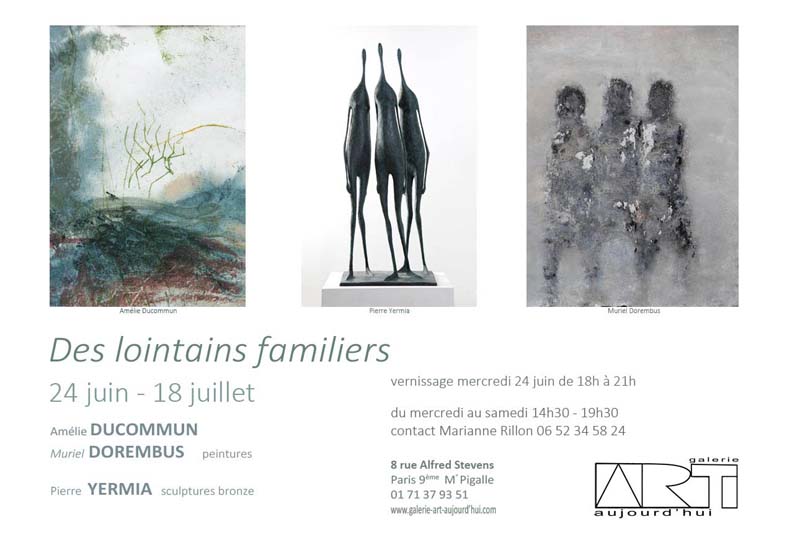 24 June - July 18
  Muriel DOREMBUS - Amélie DUCOMMUN - paintings
Pierre YERMIA- bronze sculptures
 The Landscapes and Figures of the artists presented during this sixteenth exhibition (the last before our summer closure) seem to come from an unknown elsewhere. But soon enough, we become accustomed to them. We then discover our states of mind, our interiority. The fragile silhouettes of Pierre Yermia and Muriel Dorembus, on the edge of disappearance, speak of our human condition. Similarly, Amelie Ducommun's landscapes roam through reminiscence, recollection, and sensation. Each one of them, with its own language evokes kinship with what surrounds us: the world is our family.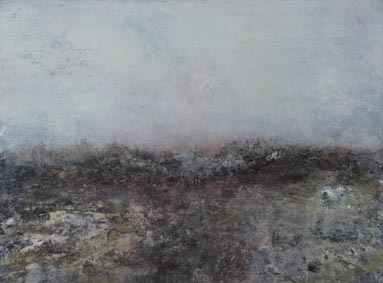 Muriel DOREMBUS  Lointains XXI  ink and mixed medias/paper 41x56cm 2014
Muriel DOREMBUS
Muriel Dorembus's landscapes are from nowhere. The sky melts in the terrestrial elements and merges into the mirror of mountains, rocks, waters. Although the division between sky and earth is always present, it vanishes under our gaze. We are held hanging between dream and reality. Muriel Dorembus invites us to an inner journey where the distant meets the intimate.
She wrote, "Earth is impregnated with water, and air swells water; the breath of the wind is pending as if to give a better representation of invariably introspective panoramas". The lightness of her ink, few highlights with acrylic paint are enough to exalt our states of mind. We are not facing a landscape, we vibrate in harmony with nature. Similarly, Muriel Dorembus's characters, uncertain silhouettes with erased faces, impose their presence by their very evanescence, that of the fragility of our condition. Thus they engage their own fight.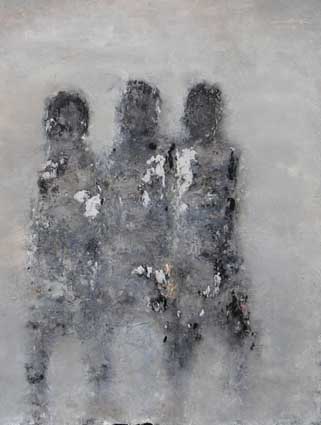 Muriel DOREMBUS Mémoire XVIII, ink and mixed medias/paper 65x50cm, 2013
Amélie DUCOMMUN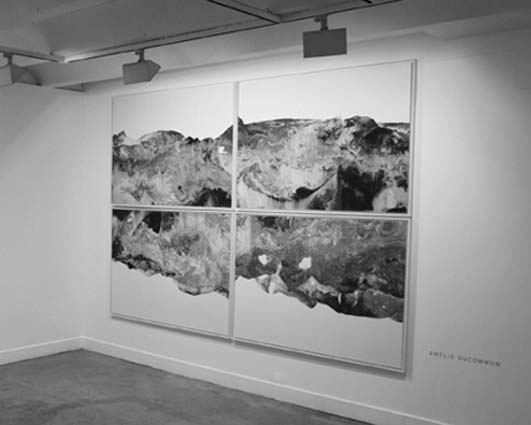 Amélie Ducommun is a traveler: Spain, USA, China... Everywhere, she feeds her inner world off atmospheres and moods that she encounters. As a young artist, she already states a very personal style with works created far out of conventions.
By a subtle alchemy, her quest for harmony and serenity transforms nature by granting it an internal balance. The wandering organization of the picture follows the movement of things in their apparent fluidity as well as in their impermanence. The run of river, the time that flies, Amelie Ducommun wanders through the thickness of the Present. Near and far mix with subtlety and delicacy. The harmony of imbalance is to be found in the softness and fluidity of forms.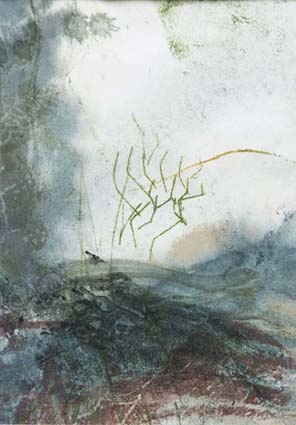 Amélie Ducommun Voguer au fil de l'eau II 20x30cm mixed medias/paper 2015
 Pierre YERMIA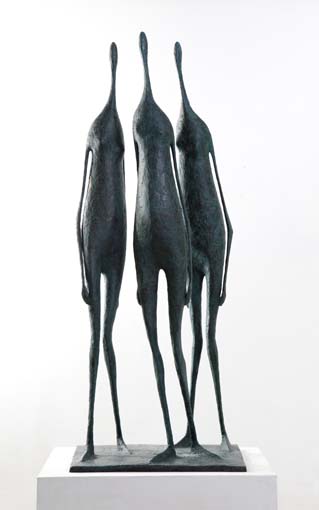 Pierre YERMIA 3 grandes figures debout bronze 2013 159x42x48cm Photo Michel Azous.
 Pierre Yermia revisits the themes of classical sculpture, but he shakes them up and turns all their codes completely upside down: characters, nudes, busts and portraits are but the evocation of bodies, and their femininity scarcely affirmed. These frail feminine figures, reduced to their essence, are archetypes of our fragility, casted in the eternity of bronze. Paradoxically, these Figures impose their presence by a perfect stylization of their forms, scarcely sketched, as still vaguely undefined. Standing, sitting or reclining, they are captured in a moment of unstable equilibrium as if they were ephemeral appearances of Beauty.
Elsewhere, bulls and horses are leaving their trivial animality, to become essential concentrates of inner strength, archetypes of a pure vital force. Pierre Yermia, by the elegance of form, expresses the generic or archetypal part of these animals, far from humans, but familiar to our eyes.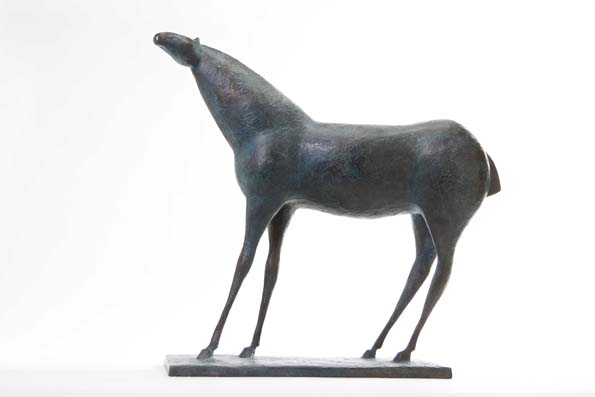 BIOGRAPHIES
Muriel DOREMBUS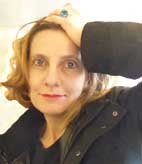 Self-taught painter, born in 1962 in Paris, where she lives and works.
Approach: "Initially there was air, air to breathe and water, water to circulate. There is the line, line and separate bodies that colour will meet. Comes the earth in order to take roots, and the horizon in which the eye joins the infinite." (M.D.)
Recent solo exhibitions:
2014 Galerie la Ralentie, PARIS - Gallery MIM 2012 and 2015, Martel (46).
 Amélie DUCOMMUN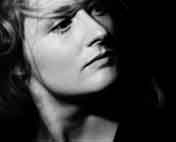 Born in 1983. Graduate of the National School of Decorative Arts in Paris in 2008. Former member of the Academy of France in Madrid "Casa de Velázquez" from 2009 to 2011, invited by the foundation "Pilar y Joan Miro" at Mallorca, silver Medal of the "Jeux de la francophonie", Nice in 2013. Amélie Ducommun takes part in various international fairs and biennials and exhibited her work in different countries (USA, China, Switzerland, France, Spain ) and through temporary exhibitions in museums, cultural institutions and contemporary art venues.
exhibitions 2015:
Causey Contemporary Gallery, New York, USA
China Cultural Institute in Paris, FRANCE
Fundentodos GOYA Foundation, Zaragoza, Spain
Prince Gong's Palace, Beijing, China.
Pierre YERMIA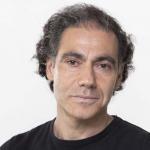 Yermia Pierre is a French sculptor who lives and works in Charenton le Pont (near Paris).
Born Oct.15, 1964 in Suresnes.
From 1982 to 1984: Studies at the School of Fine Arts in Toulouse and then, from 84 to 88 at the National School of Fine Arts in Paris.
Main exhibitions: Galerie de Buci, Paris - Bianca Gallery, Landgraas, Netherlands - Galerie des Ormes (45) Courtenay - Galerie Nichido Paris - 21 ART gallery, Palo Alto, USA - MIM Gallery (46) Martel - Taylor Foundation, Paris... Fairs and exhibitions: Mac 2000 Paris - Kunststraïnt, Amsterdam ...
Images of the exhibition