September 23 / October 31 2015
open wed. / sat. 2.30 / 7.30 pm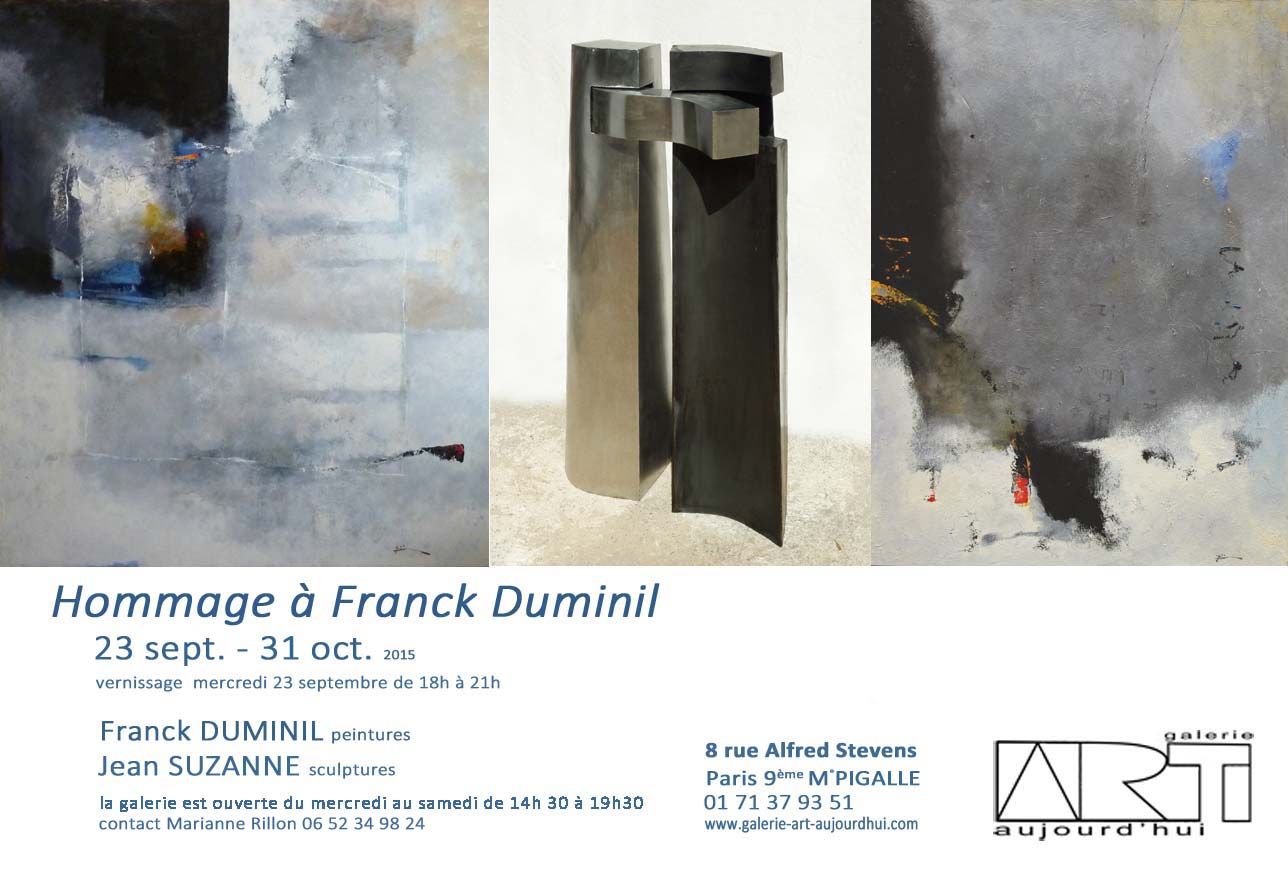 In June 2013, Franck Duminil was taking part in our exhibition, "Ineffables presences" when he told us about his wish to present his works once again in our gallery with the sculptures of his friend Jean Suzanne. From the 90's (AA gallery, Paris) up until 2013 (Mers les Bains) both met for numerous exhibitions. Alas, Frank left us before we could realize his wish. So, with this tribute exhibition, we shall honour our commitment. Franck Duminil's painting and Jean Suzanne's sculptureseem to be very conceptually opposite.Suzanne is in search of pure form, while Duminil's paint is beyond any defined shape. But this apparent contradiction is, in fact a real symbiosis that sets up a surprising, unexpected and endless dialogue.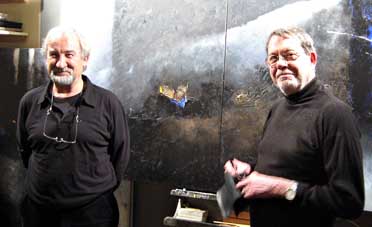 Jean Suzanne and Franck Duminil in Duminil's studio.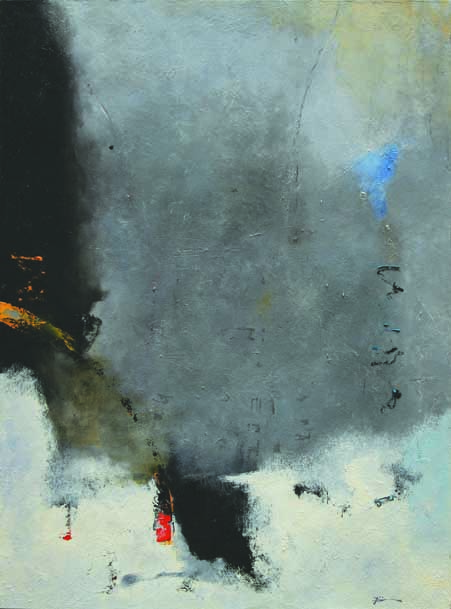 Franck DUMINIL Traces et sillages oil on canvas 130x97cm
Franck DUMINIL
An artwork of DUMINIL immediately imposes its presence. Not that his approach is easy because one must rid oneself from appearances, forget the outline of things, to receive their undifferentiated original shape. Franck DUMINIL however, is not an "abstract" painter in the common sense of the word. He is far more than that. Abstraction, for him, far from being a pure play of forms, is a primordial trip toward the essential, there where form does not yet exist. In the manner of the ancient Chinese painters, he seizes the world far beyond its distinctive features. By the way, a prestigious exhibition was devoted to him in 2013, in the Museum of art in Ningbo, China. There, his work was shown dialoging with that of a Chinese artist, Zhangmu and the sumptuous catalog, prefaced by Lydia Harambourg, highlighted his relationship to the spirit of ancient China. Franck DUMINIL paintings are the lieu of emergence of all the possibles. Some traces and the original brilliance of a blue, a yellow, or a red, emerge out of the night or of the dawn. DUMINIL reaches beyond spatial and temporal characteristics to allow us a glimpse of the undifferentiated basis of things. This "not yet happened", this "informal", this plunge into the indefinite are the very substance of his artwork.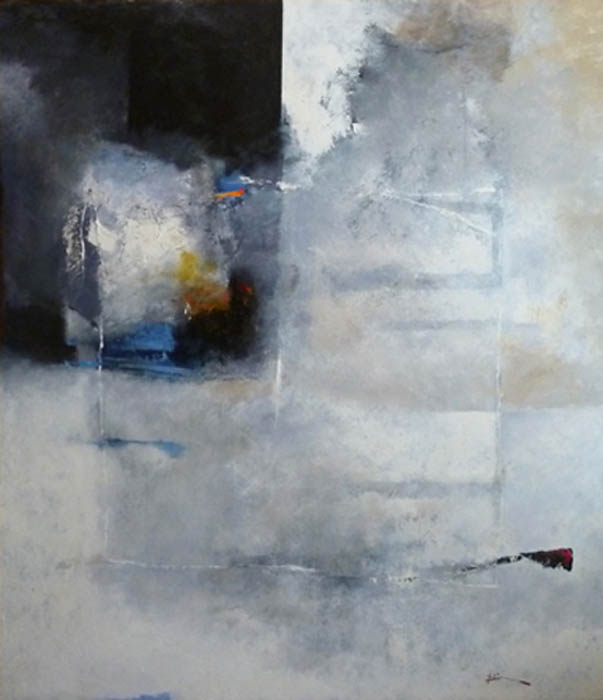 Franck DUMINIL Traversée III, oil on canvas 185x154cm.
Jean SUZANNE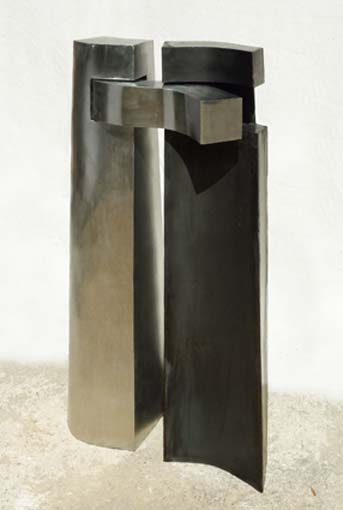 Jean SUZANNE Fractale sinueuse III acier cor-ten et acier inoxydable 113x54x24cm 2012
On the other hand, with the sculptures of Jean Suzanne, we are in the strict and rational definition of forms. His pieces, uncluttered to the extreme, express the materials and the forces, tensions, essential constraints of industrial steel, sometimes in its confrontation with other materials. They reveal the plans, fault lines, hollows and voids from whence light springs. Clashesand contrasts with the hardness of steel,as well as contrasts in its surface pigmentation, the dull rusty coloured patina of the steel "cor-ten", against the glossy white on polished steel.
Jean SUZANNE who worked as an industrial engineer, has reinvested this intelligence of material strength into sculpted work, with extreme attention to the construction processes of his pieces. Here, there is no improvisation, but the slow maturation of a project that is rationally constructed, from the first sketch till the machining and installation on the site for which the sculpture might eventually have been designed. This artwork asserts its monumentality even in smaller sculptures. All are carved in the eternity of steel and designed tothe scale of the telluric forces that shape our landscapes.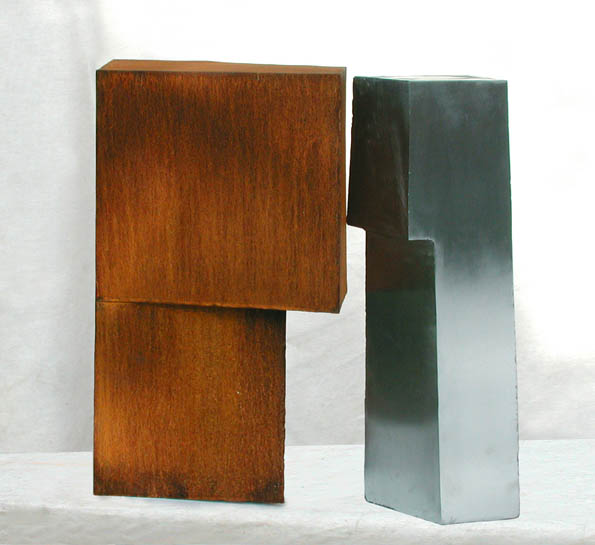 Jean SUZANNE Traverse d'ombre XV, 48x50 x8cm, acier cor-ten et acier inoxydable, 2008.
BIOGRAPHIES
 Franck DUMINIL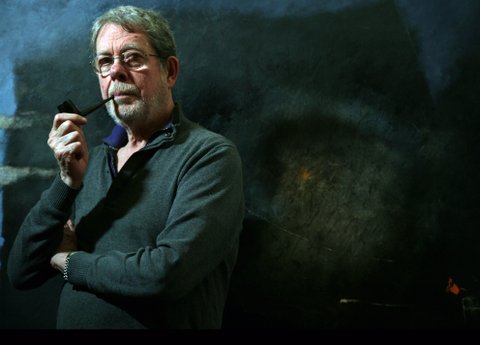 Franck Duminil was born in 1933. He spent his youth between Paris and Bearn (South-West of France) where he was steeped in Pyrenean nature.
1954 -1958, while learning to paint, frequented the studios of architecture at the Ecole des Beaux-Arts in Bordeaux and Paris.
I963: began exhibiting his first works, and in 1968 decided to devote himself to painting. Several monumental works and numerous exhibitions in France and abroad. 1983 moved to Montmartre.
 Permanently in galleries in France and abroad and participated in numerous solo and group exhibitions. Now in private collections, foundations, museums.
Recent exhibitions:
2013 - Museum Ningbo, China. Solo exhibition and travel in January 2013. ART aujourd'hui gallery, Paris, June-July 2013.
From April 11 to May 18, 2013 Duminil was invited to exhibit eighteen paintings in the Cathedral of Rouen. 2012: Gallery Balastra, Belgium - 2008 - 2010 to 2012: Europia Gallery, Paris.
Franck DUMINIL left us on June 13, 2014.
 Jean SUZANNE

Born in 1938 in Bois-Colombes (Hauts de Seine). Secondary education at the high school Chaptal, Paris. Graduate of electronics, Breguet School, Paris. Worked in the industry as a technician at Hispano-Suiza and then as an engineer in various electronics companies.
1975 Leaves Paris to settle in Quercy. Created his first sculpture studio. Leads together electronic design and artistic creation.
1985 leaves industry to devote himself entirely to sculpture
Main exhibitions:
Montauban: Ingres Museum - Gallery Scribe - the Sphinx gallery
Barcelona gallery Punxes - Villalba gallery -
Toulouse:Espace Croix Baragnon - Espace Ecureuil
Bordeaux: Plexus gallery
Carcassonne: Espace Gambetta - Galerie La Maison du Chevalier
Cajarc : Maison des Arts Georges Pompidou
Sion, Switzerland: Grande Fontaine gallery
Andorra: Ribeyragua gallery
Solothurn Switzerland: Artesol gallery
Gaillac - Ginals : Musée des beaux arts de Gaillac -Abbaye de Beaulieu en Rouergue
L'Isle sur la Sorgue : Villa Datris
Valladolid: galerie la Maleta - Montes Foundation
Chateaudun: Gardens and Chapel Hotel Dieu
Paris: AA gallery - Arnoux gallery
Salons : Paris - Mac 2000 – la Jeune Peinture - Grands et Jeunes d'aujourd'hui – Réalités Nouvelles - Unesco- Comparaison – Biennales - triennales : Tokio : Fujisankei – Paris : groupe 109 - Osaka triennale - Foires internationales : Gand Linéart – Nîmes Artenim – Karlsruhe Art Karlsruhe – Strasbourg Start – Barcelone Artexpo - Paris Art Élysées.
Monumental sculptures:Hakone, Japan - Paris - Albi - Montauban - Andorra - Carcassonne - Bruges - Bordeaux ...