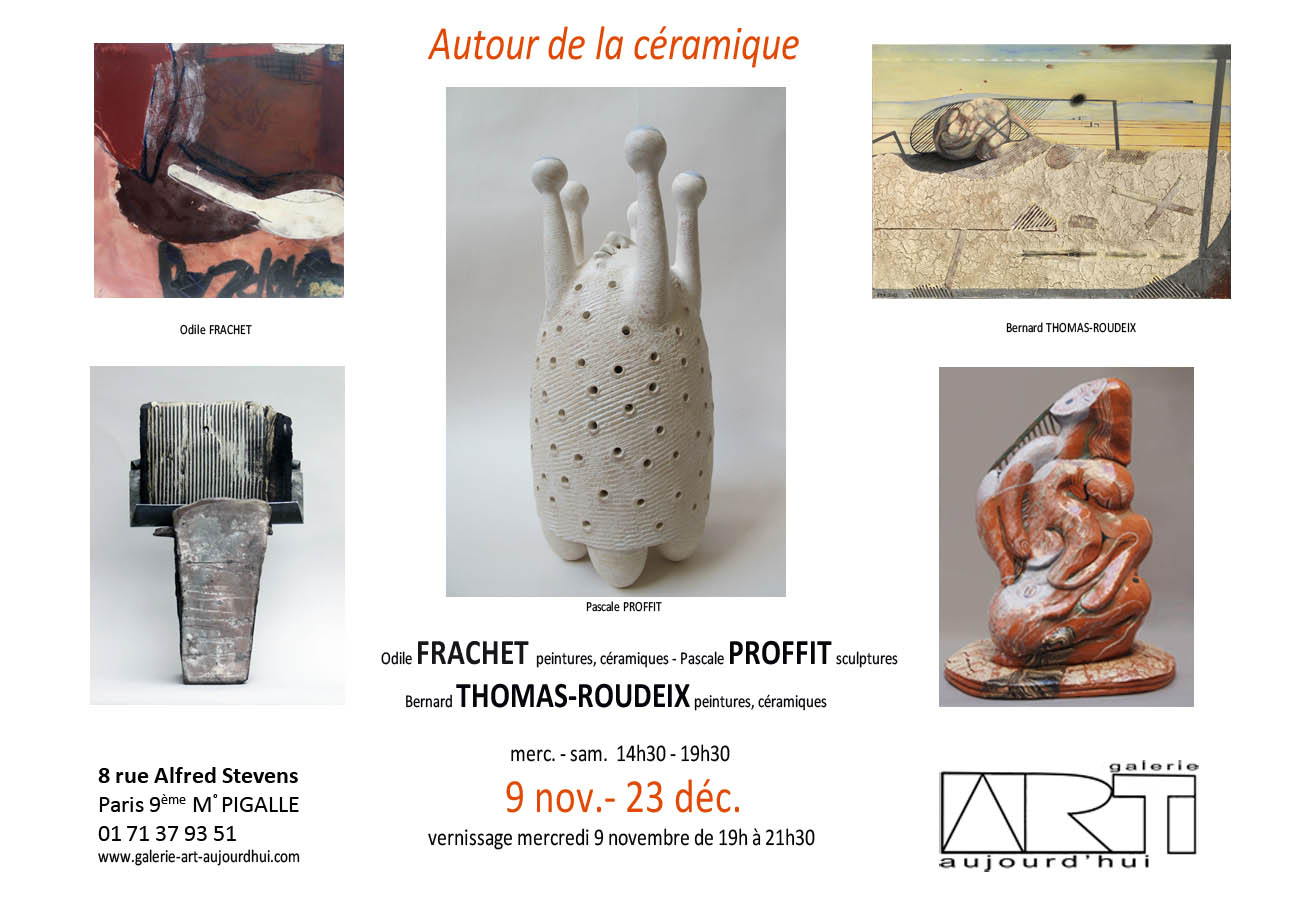 Ceramic is, in this exhibition, the hyphen between three artists who are also painters and sculptors. In different ways, they introduced, each in his own way, that ancient medium that emanates from alchemy of three primal elements: clay, water and fire. Its use dates back to the origins of mankind. Whether terracotta, stoneware, earthenware or porcelain, the ceramic keeps the gesture imprint and bends it, to every will, to any dreams. Shapes, colours, materials offer infinite possibilities to the artist's imagination. Odile Frachet's "Porte-lune", Pascale Proffit's joyful gargoyles, Thomas-Roudeix's extravagant characters, these diverse and singular works reveal essential fertility of the clay material.
Odile FRACHET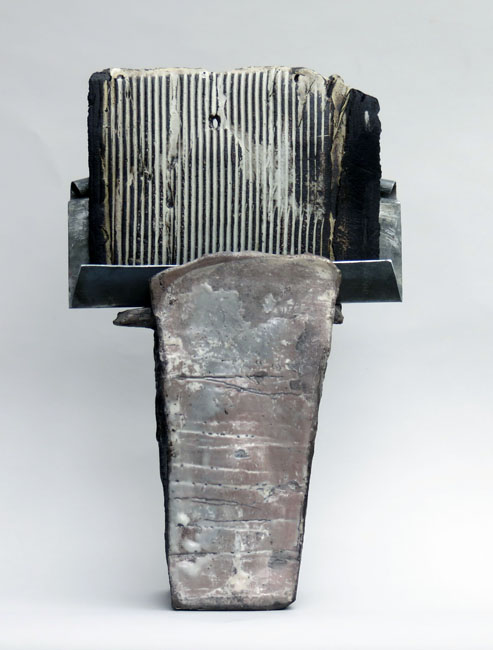 Odile FRACHET Porte-face 43x27x11, raku, grès, black clay, zinc.
First exhibition at the gallery for this artist whom we have known for a long time. Spirals, Cocoons, Rolls, Horns... Odile Frachet's ceramics evoke the remains of an animal or vegetable kingdom. The artist, with a learned and refined technique, bonds the imperfections of baking that reveal cracks and scratches, as the writing of time. The clay becomes memory while one may find back the same quest of primal shapes in Odile Frachet's paintings and engravings. On the limits of abstraction, often reduced to the simplest pictorial sign, bowls, cups, containers recall the original function of ceramic: receive, hold and preserve.
Odile Frachet's painting and engraving proceed from ceramic. Her creation lives in perfect harmony within it without any rule or system. Only intuition and emotion motivate her creative gesture while her dreamy works allow complete freedom to our glance.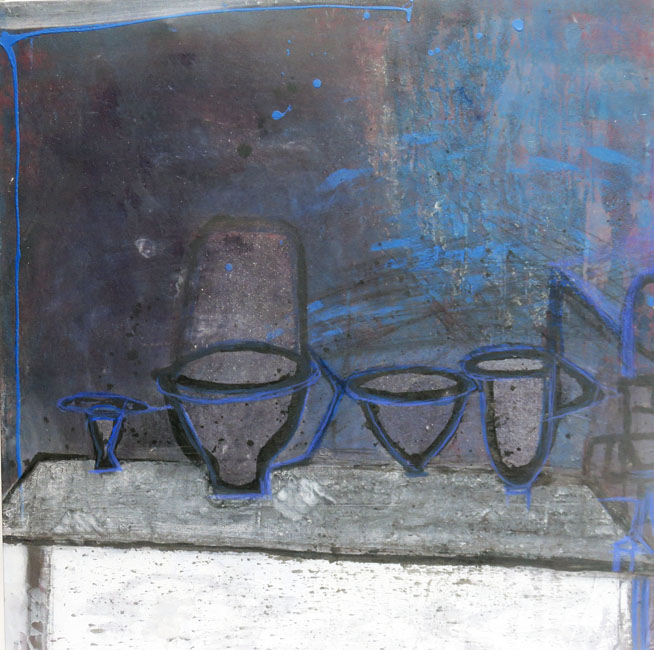 Odile FRACHET Intérieur outremer Acrylic on canvas 100x100cm
Bernard THOMAS-ROUDEIX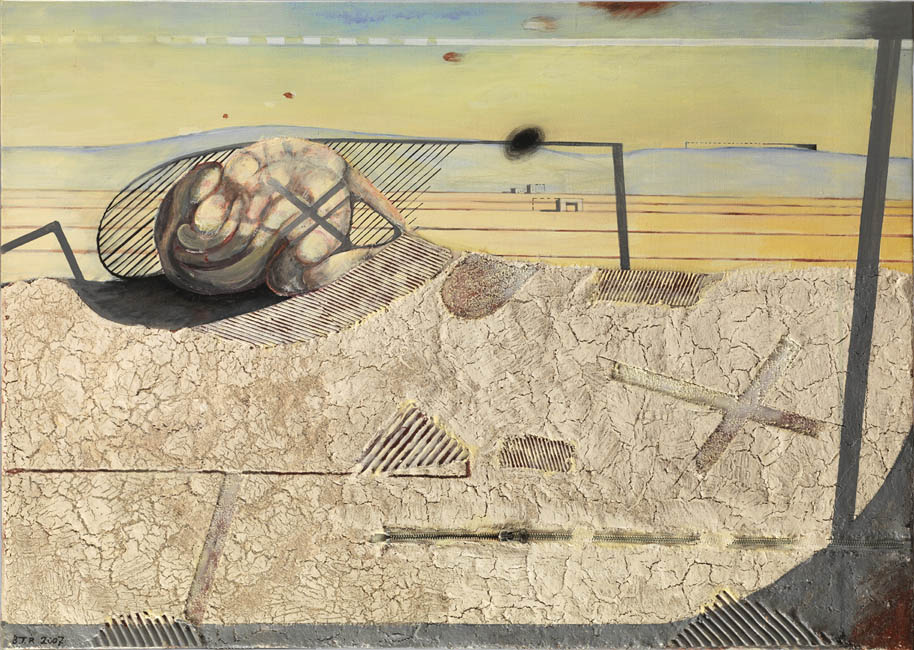 Bernard THOMAS-ROUDEIX Seuls mixed technic on canvas 92x65cm
Bernard Thomas-Roudeix from whom we have often presented the "dis-figurative" paintings and ceramics, has adopted as a painter, the language and medium of ceramists. So, he continues painting by other means, in another dimension. His characters are coming out of the picture to settle in the third dimension. Shooter with vest (Tireur en gilet), The informer (L'indicateur), Slice of a man without legs (Tranche d'homme-tronc), all these fictions are strange figures, both ironic and pathetic who offer their incongruous presence to our gaze. His recent "Embraces" series explores the eternal enigma of Eros. But the anecdote of his characters is transcended by the delicious contrast between matt and glossy glazes, raw and colourful clay. Bernard THOMAS-Roudeix paints and draws with ceramic...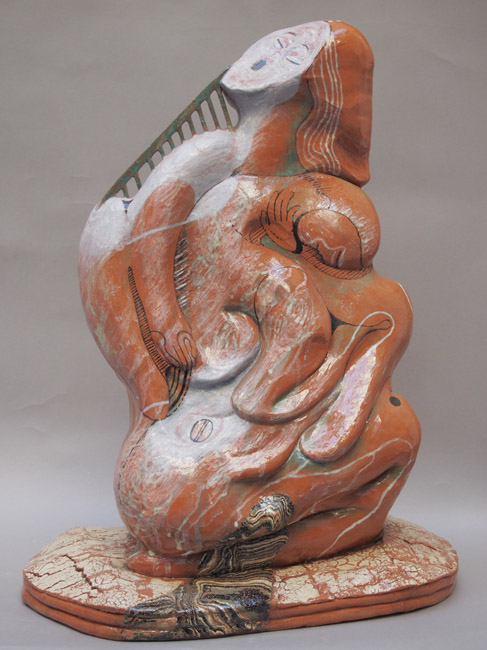 Bernard THOMAS-ROUDEIX Grande étreinte rouge enamelled hearthenware 54x40x27cm
Pascale PROFFIT
In Pascale PROFFIT's sculptures, there is neither the glistening of enamels nor materials effects, but simple white clay with a few patinas and touches of colour. The form is primal: Pascale PROFFIT is foremost a sculptor, and she reaches to the quintessence of her art: an extreme economy of means to produce the utmost fantasy.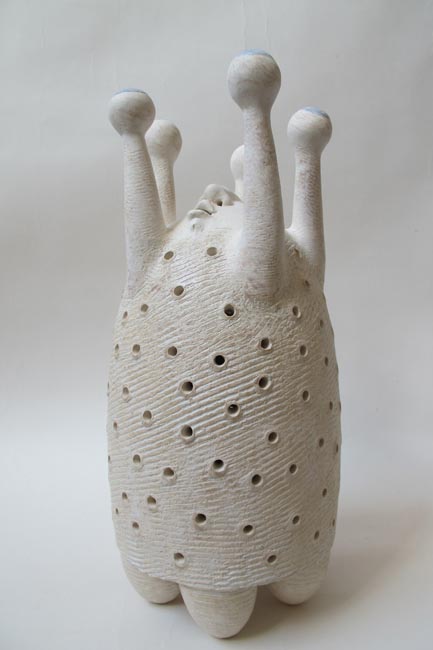 Pascale PROFFIT L'émerveillé polychromatic terra cotta H41cm 2015
The awed, (L'émerveillé) is emblematic of her new unseen sculptures. Its character, an extravagant and improbable creature, imposes, as always, his awed presence. He reaches the sky with the tip of his eyes, bulging up by the daily world show. The ordinary common sense is once again caught at fault by the tender-bitter humour of the stage. And all this lets one think of the meaning or meaninglessness of existence.
BIOGRAPHIES
Odile FRACHET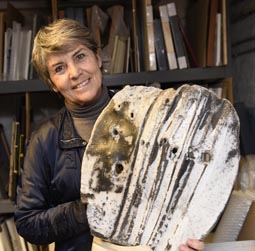 Born in Paris. Lives and works in and around Paris.
Studied visual arts (ceramic decoration) at high school Auguste Renoir Paris
Numerous exhibitions since 1967 in France and abroad, including:
Recent exhibitions (2015/2016):
Galerie Peinture Fraîche Paris - Journées de l'estampe, Paris - Art en Capital, Comparaisons, Grand Palais, Paris - SNBA Fair (Carrousel du Louvre), Paris - AROA Gallery, Printemps des artistes, Courbevoie - Salon des Beaux-Arts Garches (92)
 Bernard THOMAS-ROUDEIX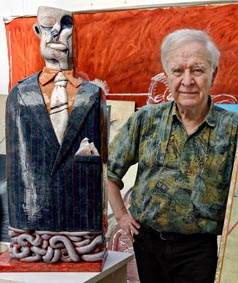 Born in 1942. Education: National School of Fine Arts in Paris. Lives and works in Paris.
Numerous solo exhibitions in France and abroad including:
-Galerie ART aujourd'hui, Dé-figurations, May-June 2013 - galleries: Messine - Peinture Fraîche - Art et Patrimoine - Sèvres (92): galerie du SEL - U.S.A., Ann Arbor: The Minotaur-art gallery - Luxembourg, Rodange, Duplex Gallery...
Numerous group exhibitions including: Mac 2000 - Salon des 109 - Comparaisons – Automne - ArtMetz - Puls'Art ....
Public Collections: Hotel du Département, Rouen.
Illustrations in various journals and collections of poetry.
Price of the Taylor Foundation (June 2012)
Permanently: Galerie ART aujourd'hui, (Paris) - Galerie Peinture Fraîche (Paris) - Galerie SIRENADE (Dinan).
Pascale PROFFIT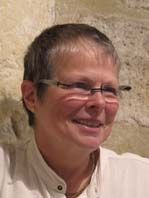 Born in 1951 in Paris, a graduate of The E N D S A ( Art Appliqués) in 1975 (interior architecture).
Works in the studio A. MINOT, sculptor, Sèvres. 1974 to 1980 to commands 1%: monumental sculptures and reliefs ceramic, frescos and polyurethane paintings.
Exhibits since 1981.
Permanently Galerie ART aujourd'hui, Paris since "Ineffable presence" (June-July 2013) and "The Angel of the Odd" (January-February 2016)



Exhibition's video film and photo report