Point, Line, Plane... Space
April 26 - June 3, 2017
Yutaka IMAÏ - Guy MANSUY - painters
Louis THOMAS d'HOSTE - sculptor
The title of our exhibition is also that of Vassili Kandinsky's book1. With our three artists (two painters: IMAÏ, MANSUY and a sculptor: THOMAS d'HOSTE) we are coming back to primordial elements of abstract pictorial language and to "pure plasticity". The point, at first, scarcely exists, silent and motionless on the verge of nothingness. However, his movement within the plane of the painting, breaks the original immobility and introduces new dynamics with the perception of contrasts: verticality, orthogonality and line's sinuosities.

Then, the displacement of the line generates the plane which, in turn, sets in motion and defines the third dimension, sculpture's space.

 These original elements of plastic language resonate in us as the discovery of a world. One could hear another definition of geometry, when correspondences and analogies arise, while rhythms, intervals, proportions, textures, sounds, tones play their polyphony, like music for the eyes.
1"Point, Ligne, Plane", published in 1926, while this inventor of abstract painting was teaching the Bauhaus of Weimar basic rules of the "shape's grammar" alongside P. KLEE, W. GROPIUS, J. ITTEN, O.SCHLEMMER etc ...
GUY MANSUY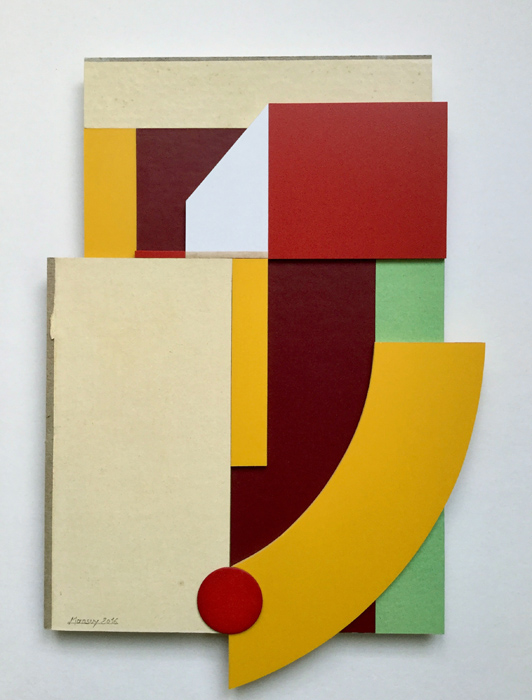 Guy MANSUY  without title collage  28x19cm 2016
"Silence also is composed. It is a question of balance, and it may even be a non-colour. Silence in painting is essential, just like in music. It constitutes an instant of immobility, a point of suspension. "(Guy Mansuy Dec. 2013)
Guy Mansuy is a painter who collects, classifies, arranges, cuts, composes, assembles and adheres materials. Painted wood, plastic, rubber, various papers, stamps, envelopes, metals (preferably rusted), are systematically collected from junk shops or car boot sales and meticulously sorted and put in order for a hypothetical future use. Through this practice of assembling and collage, Guy Mansuy takes part in the modern tradition that, from Cubism to New-Realism, from Dada to Surrealism and the Informal, runs all over the 20th century. In front of his compositions, one might think of a strictly geometrical abstraction. But the random and necessary encounter of some fallen reality's fragments, create a poetic universe, made of silences and balances, of rhythms, cadences and contrasted sonorities. The language thus defined makes a visual polyphony.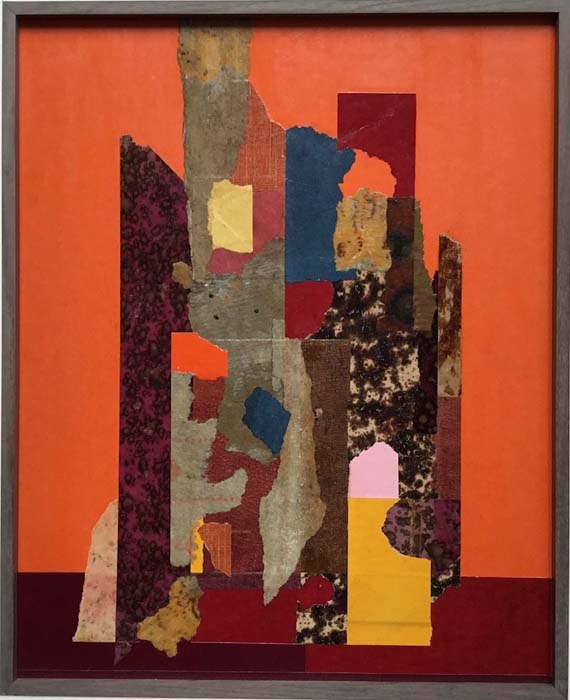 Guy MANSUY Sans titre  collage 26x21cm 2016
Louis THOMAS d'HOSTE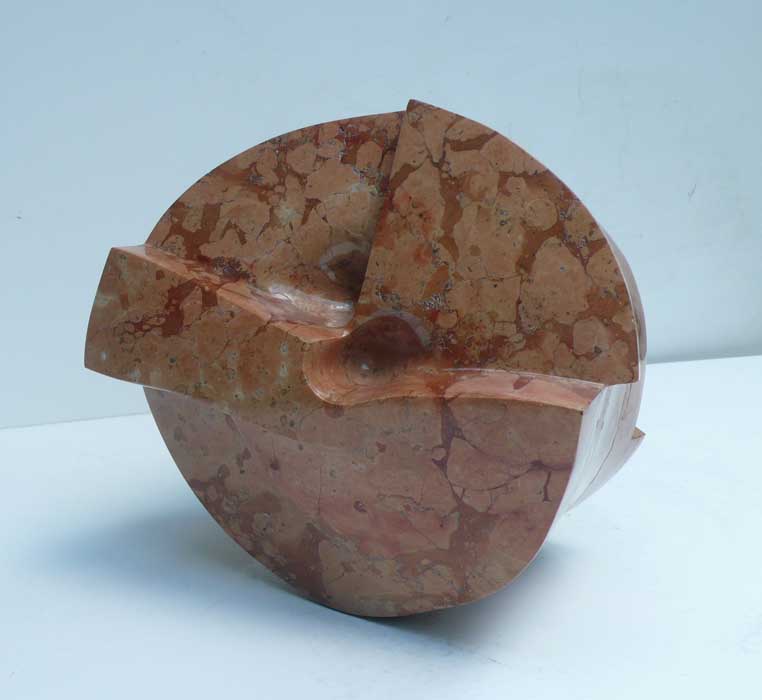 Louis THOMAS d'HOSTE Graine de soleil marbre rouge de Vérone d.28x22cm 2015
Louis Thomas d'Hoste is the sculptor of this exhibition. Resolutely abstract since ever, his sculpture combines a quest for spiritual perfection with the seductions and the sensuality of forms, slowly conducted toward the roughness or softness of their marble skin. Here,  rigour and even essential simplicity of the shape is projected onto the stone since its initial conception. These sculptures soothe. They tell us about their author's calmness, gentleness and obstinate intention of celebrating life. They vibrate with a human and cosmogonic spiritual presence amplified in infinite echoes inscribed in the marble's delicate quivering. They invite the touch of a caress.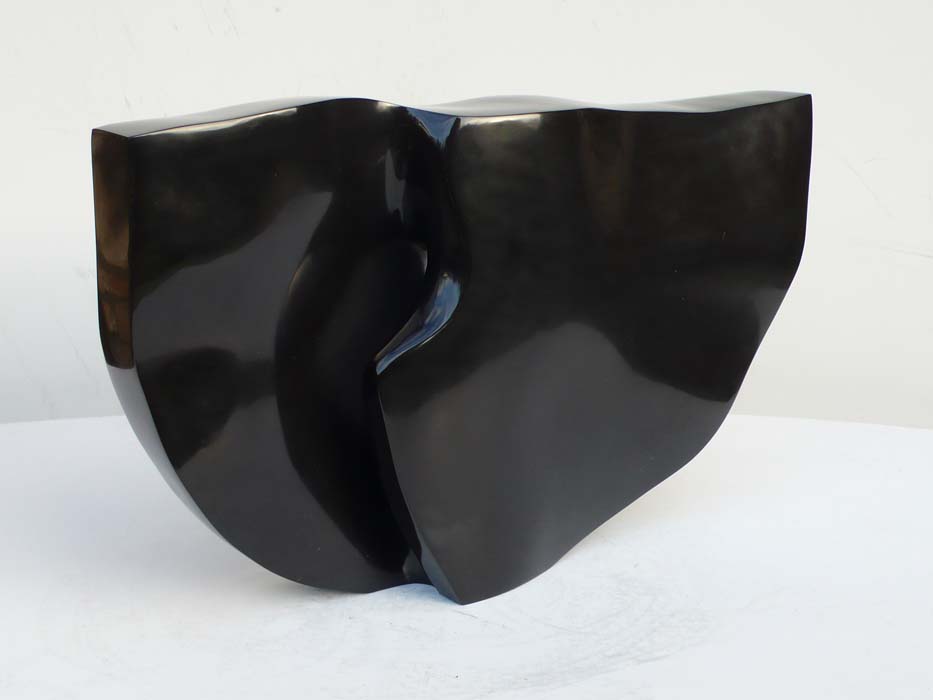 Louis THOMAS d'HOSTE La nuit marbre noir de Belgique 30x51x10cm 2015
Louis THOMAS d'HOSTE à l'oeuvre sur "La nuit"
Yutaka IMAI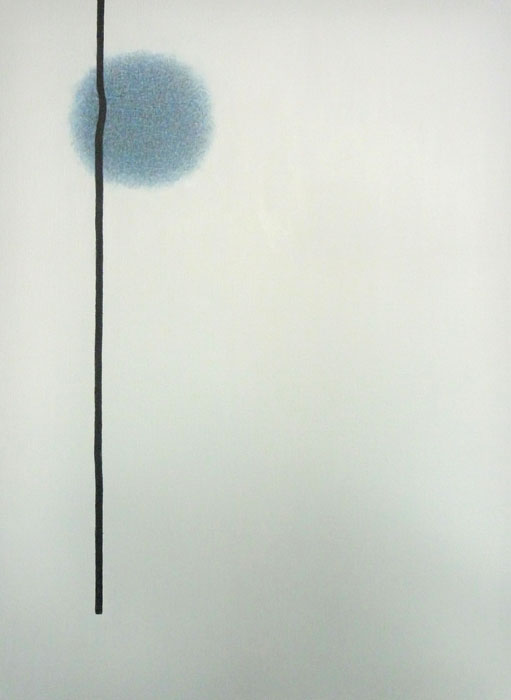 Yutaka IMAI Ligne noire 16 huile sur toile 73x54cm 2016
Imai's works are entitled "Simple", "Shape", "Light"... These titles clearly express this tendency to minimalism and purity that one meets in a certain Japanese tradition. The artist seeks in a way of his own, the very essence of pictorial expression which leads to pure contemplation. Without precipitation or random gestures, with a meticulous method, point after point, touch after touch, with silent and imperceptible transformations, the artist elaborates with oil painting, in a very apparent simplicity, a shape that makes vibrate the painting's plane. In Imai's paintings,  behind silence, we hear the vibrations of sacred waves.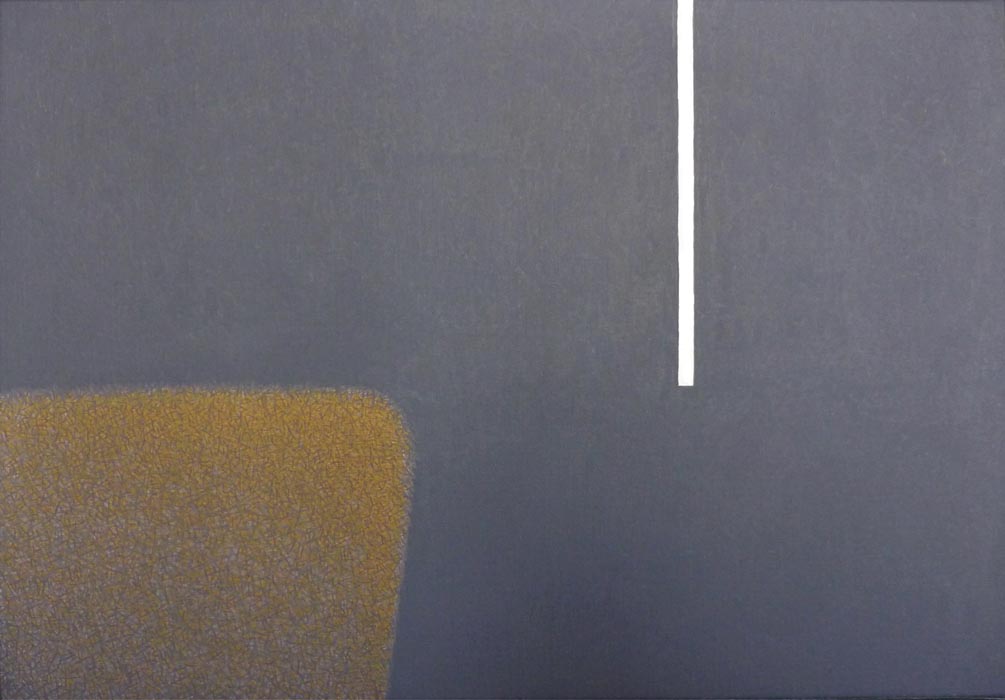 Yutaka IMAI Ligne blanche 3 huile/ toile 55x38cm 2016
Biographies
Yutaka IMAI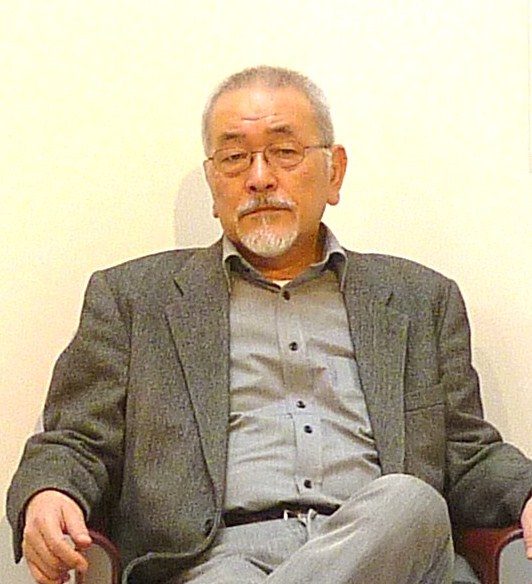 Born in Japan, studies at Musashino, School of Fine Arts, Tokyo.
Recent exhibitions Gallery Toho Art in Tokyo (2015, 2016)
 Takashimaya Gallery (Inncent) in Tokyo - Nagoya - Osaka
 Art en Capital (Comparaisons), Paris.
Galerie ART aujourd'hui, Paris "Ineffable présence" (June 2013), Japan, so far, so close (December 2014)
 Galerie Le Point Rouge, Grimaud - Var (2015).
Guy MANSUY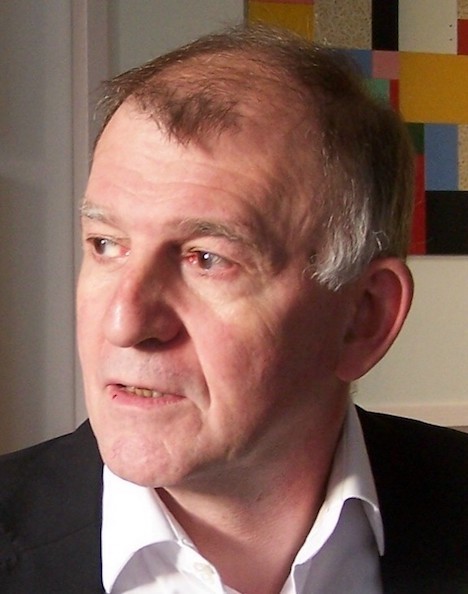 Born on 1949 in Morocco. Lives and works in PARIS.
Studies in decorative arts in Strasbourg and at the Ecole Nationale Supérieure des Beaux Arts in Paris. Studies of Literature in Paris 1, Panthéon-Sorbonne. Worked at the Comédie Française as  decorator.
Personal exhibitions:
Galerie Capazza, Nançay - Galerie Roy Sfeir, Paris
Museum Arthur Rimbaud Charleville Mézières -  La Poste Museum, Paris
Théâtre du Vieux Colombier, Comédie française Paris.
Contemporary art fairs :
Arco, Madrid- Lineart, Ghent - St'art Strasbourg - Artissima Turin - Art Karlsruhe - Art Elysée, Paris
Salons: de Mai - Grands et Jeunes – Montrouge.
Public Collections
Musée des Ardennes - Musée Arthur Rimbaud Charleville-Mézières




La Poste Museum, Paris




FRAC Champagne Ardenne, FRAC Lorraine, National Fund of Contemporary Art, Paris.
Louis THOMAS d'HOSTE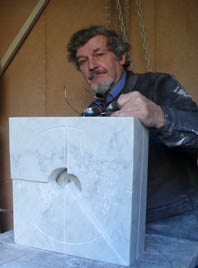 Born in Paris in 1932. He lives and sculpts marble in the Paris region.
Studies: Académie Charpentier in 1948 and then to Ecole des Métiers d'Art from 1949 to 1952. He was destined to animated cinema when he discovered sculpture during these years of studies and in the Egyptian art rooms Of the Louvre Museum. He has been initiated to the direct cutting on stone in the workshop of Maurice De Bus.
In 1955, he founded and directed the Galerie du Seuil Etroit (now Shakespeare and C ° Bookshop) for two years on the left bank in Paris, where he exhibited his first works, then left for Canada where he remained for three years. Visited Mexico and Peru for several months. The vestiges of pre-Columbian civilizations reinforced him in the idea that stone can deliver the essential.
He has participated in nearly 300 exhibitions in Paris and throughout in France, as well as in Germany, Belgium, Italy, Canada, Asia... at the Grand Palais,  Musée Rodin,  Musée Bourdelle and  Espace Cardin in Paris, or at the British Museum in London...
The Academy of Fine Arts of Paris awarded him the sculpture prize Paul-Louis Weiller and chose him to be a resident artist of the Laurent-Vibert Foundation, Lourmarin Castle, Luberon, summer 2002. Finalist of the Prix Antoine Bourdelle in 1995 and 2001. Taylor Prize of the Salon des Réalités Nouvelles in 2012.
 Exhibition's images
 and a viddeo by Pierre Deloffre