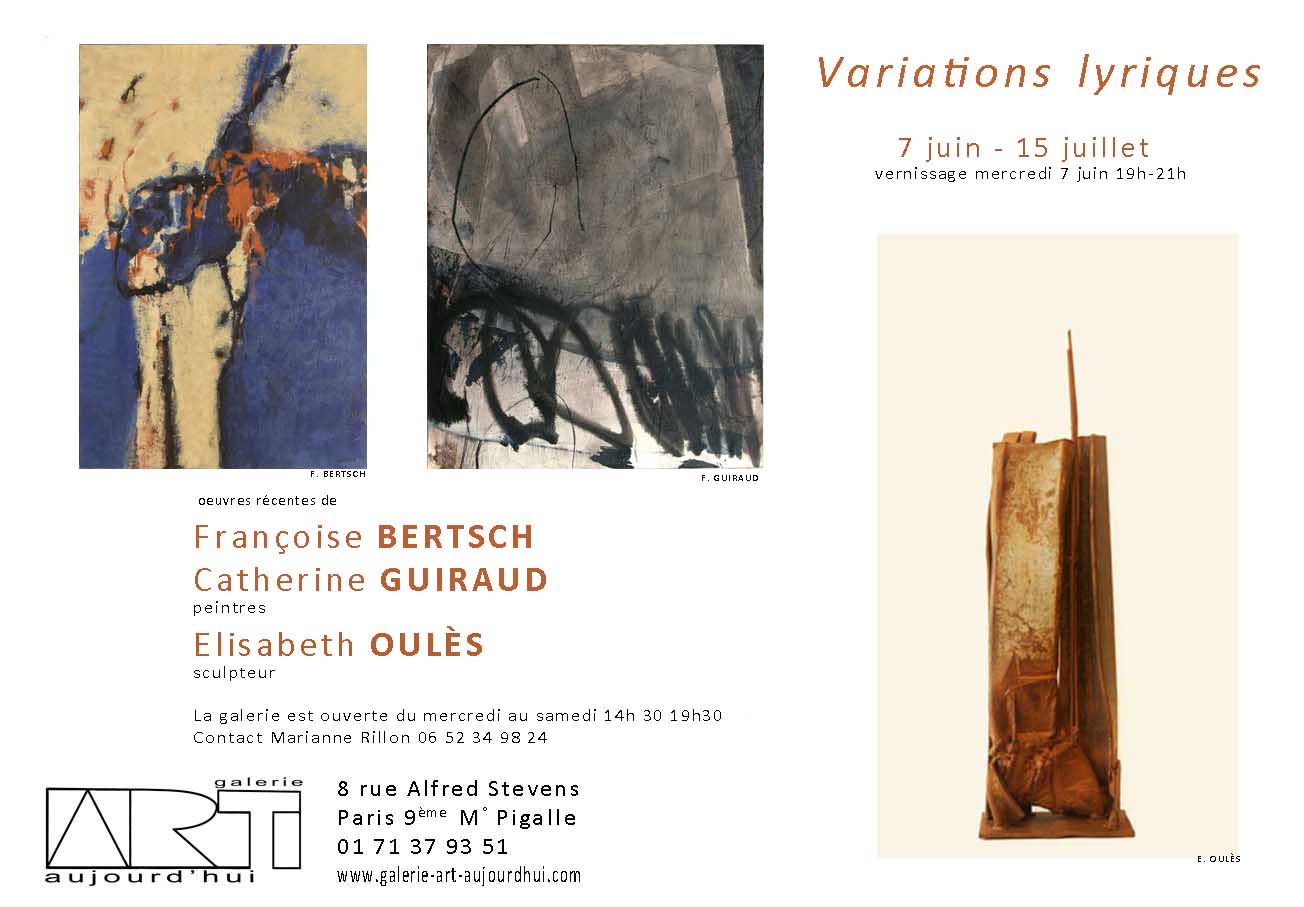 Lyric Variations
free translation by Tracy DANISON
June 7 - July 15, 2017
Françoise BERTSCH - Catherine GUIRAUD - painters
Élisabeth OULÈS - sculptor
The Webster says a lyric style expresses "intense, personal emotion" referencing especially poetry and music. But since the advent of French "lyrical abstraction" in the mid-20th century, both painting and sculpture have been able to claim it in their aesthetic. ART aujourd'hui's featured painters Françoise Bertsch and Catherine Guiraud, and sculptor Elisabeth Oulès put aside the cool objectivity of much pop-art inspired contemporary art, precisely to explore the emotional potential of pure forms and space in contrasts of line, of light and dark, of colors, of textures and of materials.
 Galerie ART aujourd'hui
8, rue Alfred Stevens
Paris 9ème (métro Pigalle)
from wednesday to saturday 2.30 – 7.30 pm
Contact: Marianne RILLON: 366 52 34 98 24
This email address is being protected from spambots. You need JavaScript enabled to view it.
www.galerie-art-aujourdhui.com
Françoise BERTSCH

An explosion of color – deep, violent blues alongside shades of orange, beige, black – express the sudden swift-acting brilliance of emotion in Françoise Bertsch's most recent work. While nature is always her primary aesthetic source, she uses feeling and intuition to render it as pure abstract flow.
 
Françoise BERTSCH

Il était une nuit

Acrylique sur toile 90x90cm 2017

Françoise BERTSCH

Histoire d'arbre

130x97cm acrylique sur toile 2016
Catherine GUIRAUD

Catherine GUIRAUD Acrylique sur toile 140x112cm
Catherine Guiraud paints her lyric with extreme economy. Shades of grays, whites and blacks express a deep, complex, interiority that sends reverie into the transparent surfaces of her canvases.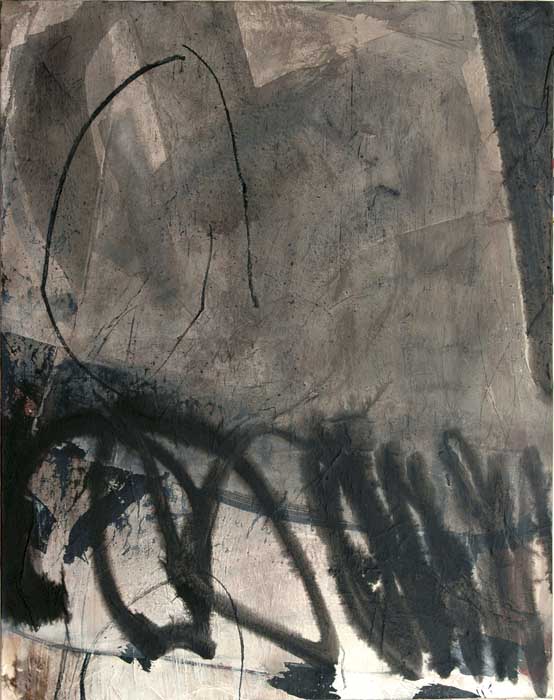 Catherine GUIRAUD Acrylique sur toile 100x81cm
Elisabeth OULÈS
 
Elisabeth OULÈS Naos XI métal polychrome 43x13x8cm 2017
Using historical reference and her own experience, Elisabeth Oulès works to evoke the sacred. The folds and fractures of her metal sculptures can be read as the Egyptian glyph for "Naos" or "sanctuary", or as a paean or a hymn from which one may divine the secrets of mysteries.
 
Elisabeth OULÈS Naos XII métal polychrome 2017
Biographies
Françoise BERTSCH
Françoise Bertsch lives and works in Paris and Burgundy. Graduate of the Ecole Nationale des Beaux-Arts (Paris), she teaches in various institutions in both Paris and Lille.
Recent exhibitions Galerie Garnier-Delaporte, Sancerre Chavignol (2010, 2015) Galerie ART aujourd'hui, Paris «Paysages intérieurs» (2014) Galerie Frédéric Moissan-Nicole Quentin Paris (2015) Galerie des Ormes, and Galerie de l'Europe, Paris (2016)
Photocaps:
Françoise BERTSCH, Il était une nuit (Once upon a night), acrylic on canavas, 90x90cm
Françoise BERTSCH, Histoire d'arbre (Tree history), acrylic on canvas, 130x97cm
Catherine GUIRAUD
Catherine Guiraud, whose work figures in public collections in France's Southwest, including her native Toulouse and Tarbes, also works as an illustrator and decorator today lives and works in Toulouse. Of her 'lyrical' offering she says, "This work has nothing cerebral about it. It is a moment of pleasure and freedom, a 'play on distancing' my intimate space and my environment: the most sensual way I know to be in communion with nature."
Recent exhibitions:


France, Spain, Switzerland:




Hôpital Général, Clermont Ferrand (2016)




ARPAC, Castelnau le Lez (2015)




Center Bonnefoy, Toulouse (2015)



Photocaps:
Catherine GUIRAUD, Untitled, acrylic on canvas, 100x81cm
Catherine GUIRAUD, Untitled, acrylic on canvas, 140x112cm
Elisabeth OULÈS
She studyed in Ecole Nationale des Beaux-Arts (Paris) and is a poet as well as a sculptor, with the poetry collection L'aube franchie as well as the Stations of the Cross (fourteen sequential sculptures themed on the steps of the crucifixion of Jesus) for the listed Saint-Martin church at Grosrouvre, south of Paris. She says of her polyvalence, "Writing, drawing and sculpture trace a single itinerary for me: words are shaped and shapes are written."
Recent exhibitions


"Naos", Galerie L'Oiseau Sablier 22220 Tréguier (2017). 




Congress Palace. Lorient (2017)




Cap sur les Arts, Perros-Guirec (2016)




Biennale de Gentilly (2015)




Galerie ART aujourd'hui, "Signes, Traces, empreintes" (2015

)



Photocaps:
Elisabeth OULÈS, Naos XI metal, polychrome 43x13x8cm 2017
Elisabeth OULÈS, Naos XII metal, polychrome 2017
Pierre Delofre's Vidéo

Photo report of the exhibition
---
---
---
Enregistrer
Enregistrer
Enregistrer