4 contemporary figurative painters
40 years of artistic friendship

free adaptation by Tracy DANISON

September 20th - November 4th, 2017
Pierre DESSONS – Abraham HADAD
Jörg HERMLE – Marc GIAI-MINIET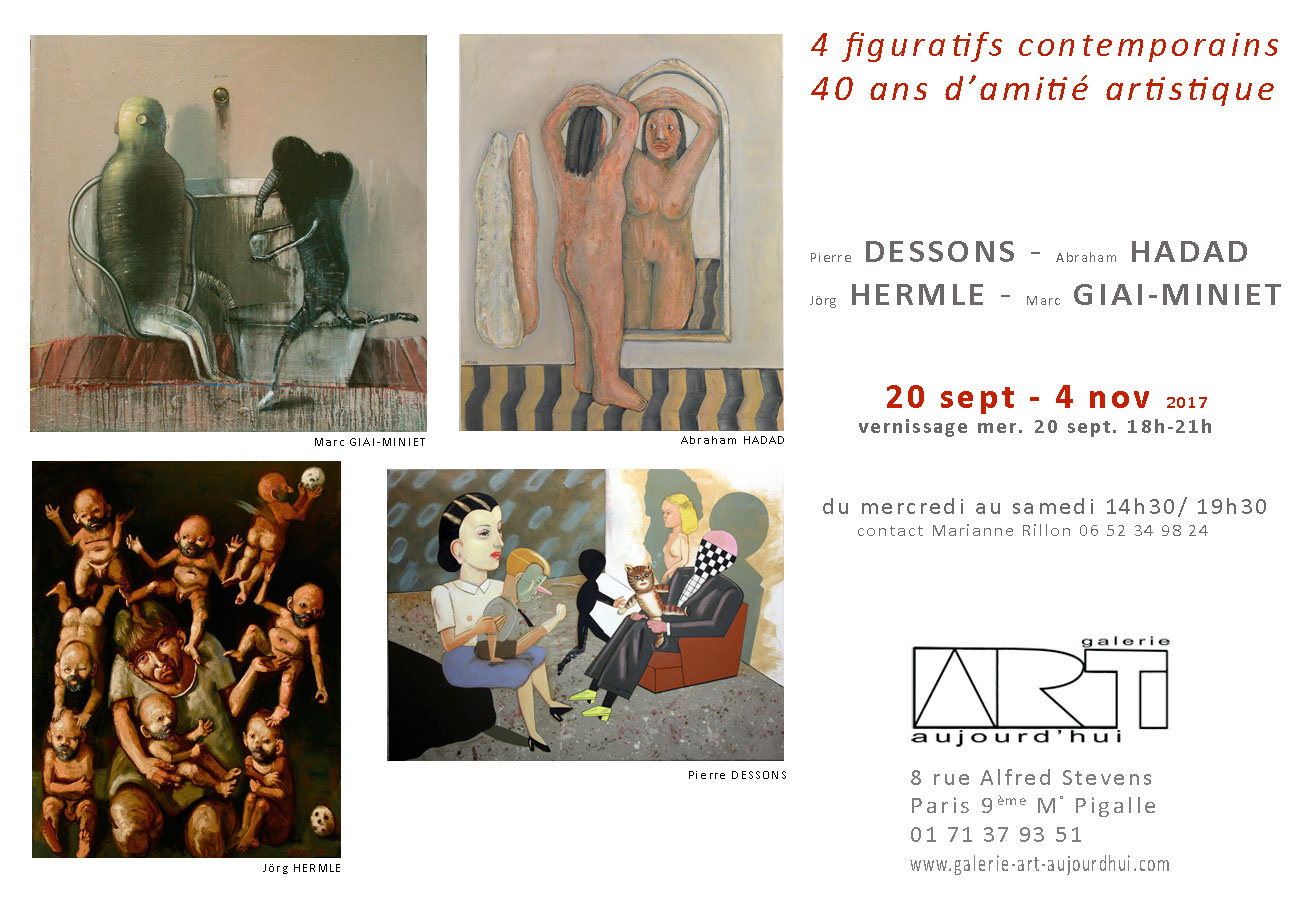 This most recent shared exhibition of Pierre DESSONS, Abraham HADAD, Jörg HERMLE and Marc GIAI-MINIET is no accident. Well-regarded in France and abroad by a broad range of contemporary art lovers each of these four old friends shares a taste for pushing forward the limits of figurative art through distinctive painterly narrative. These are "storylines" and commentary that are deeply rooted in the evolutions of modern esthetics, sometimes disturbing, sometimes humorous, but always perceptive and distinct.
The work of DESSONS, HADAD, HERMLE and GIAI-MINIET is always contemporary in the best sense of the term: original and new, provocative and challenging.
Galerie ART aujourd'hui
8, rue Alfred Stevens
Paris 9ème (métro Pigalle)
Open 2.30 to 7h30 pm Wednesday through Saturday
Contact : Marianne RILLON : 06 52 34 98 24
This email address is being protected from spambots. You need JavaScript enabled to view it.
www.galerie-art-aujourdhui.com
Pierre DESSONS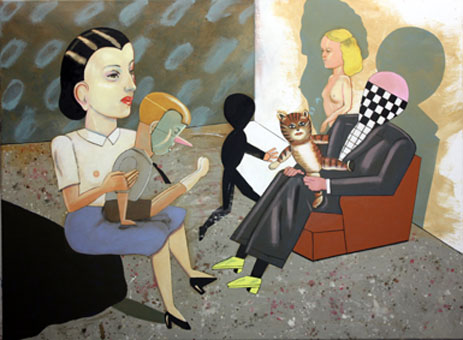 Pierre DESSONS Regard perdu huile et technique mixte sur toile 97x130cm 2012
Pierre Dessons writes in the introduction to his site: "My work puts fantasy into poetry. Feeling uneasy when looking at it is normal; there is so much hidden behind my characters, who are fleeing, searching each other out, avoiding each other. It is theater, comedy, a game; my source of inspiration is the ambiguity of their feelings and sentiments."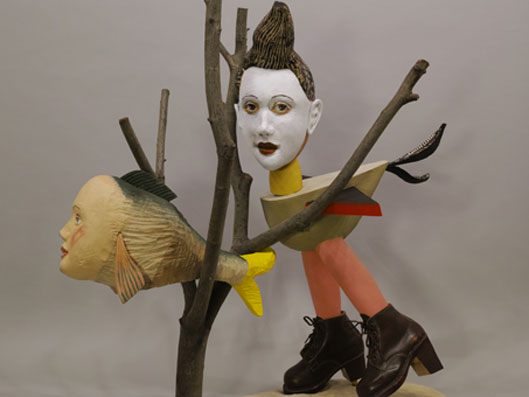 Pierre Dessons Oiseau et petit poisson bois polychrome 77x75x44cm
The seduction and enchantment of Dessons' theatrical scenes is just beyond the onlookers first glance. In this self-contained world of intimate spectacle, Dessons lets the perverse polymorphism of the infant reign, letting the adult eye explore these manifestly open secrets at leisure. And rather than analyze them, Dessons' approach is to invite the onlooker to understand the mysteries through the beauty of the scenes.
Abraham HADAD

Abraham HADAD le grand Miroir huile sur toile 100x81cm 2014
For the first time we are able to make an exhaustive presentation of the scenes of daily and family life that are the background on which Abraham HADAD's characters evolve. Haddad's trademark is simplicity in form and subject: deliberate archaism and two-dimensional primitivism foreground often nude bodies. Although never troubling, Hadad's paintings emanate a "familiar strangeness" – hints of something just out of reach that continually picks at the onlooker's curiosity. Thickly contoured with a thick, sensual application of paint, the figures seem to resist the eye's effort to project more subtleness on them. With eyes wide open in amazement (?) or tenderness (?), blocky, nude, mother/goddess/odalisque-like women take ingénue poses. In their primitive simplicity, Haddad's figures preserve an air of the old Orient…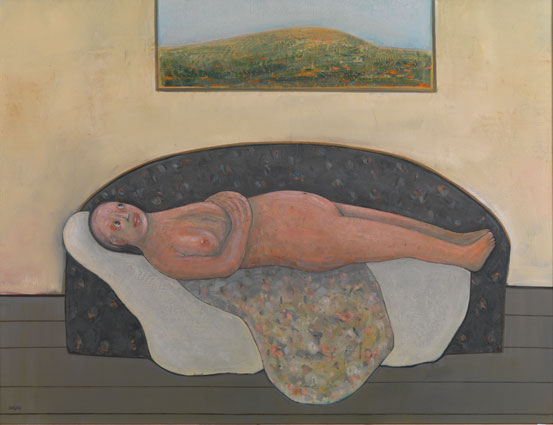 Abraham HADAD Renaissance II  huile sur toile 89x116cm 2016
Jörg HERMLE
Jörg HERMLE L'Envol huile sur toile 148x114cm 2017
In Jörg Hermle's latest works, the times of life are mixed and extended into lively narratives that bear us up over and beyond the immediacy of most contemporary painting – bearded newborns are more than a smiling nod to France's newest president. Hermle's work calls to mind the gritty engagement of Weimar Germany's New Objectivity movement, Georg Grosz's caricatures or Otto Dix scenes of the underbelly of post-war life.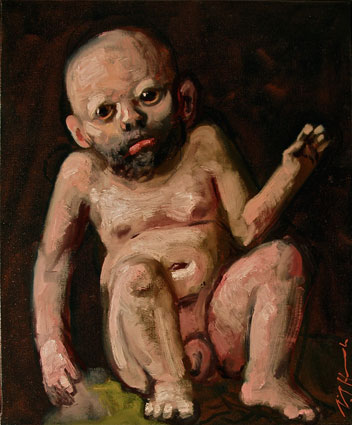 Jörg HERMLE Barby huile/toile 38x46cm 2017
His painterly narrative, which uses an almost medieval break up of proportion and classic chiaroscuro to carry forward, shows precocious dotards victimized by childhood terrors, a lonely old man bent under the weight of a past vision of a future hell waits for death. Meanwhile, grotesque putti – babies yet unborn who bear the marks of life that has not yet been lived mill around a maternal figure – show a vision of a humanity stupefied by the struggle to be.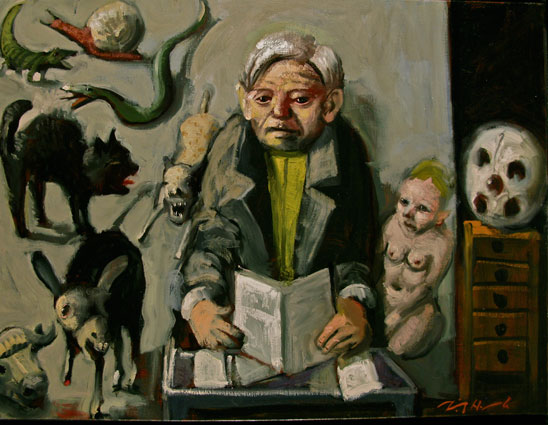 Jörg HERMLE Le passé lointain huile sur toile 2017 46x61cm
 Marc GIAI-MINIET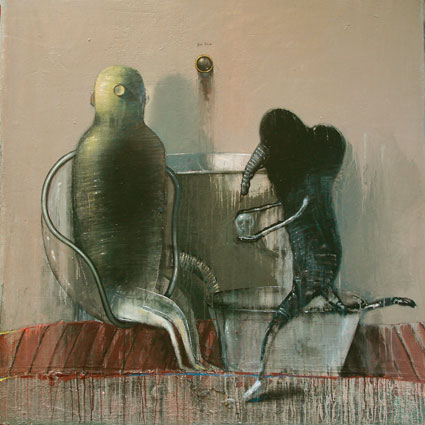 M. GIAI-MINIET L'offrande au bain technique mixte sur bois 128x122cm
Marc Giai- Miniet paints as renowned Argentine fabulist Jorge Luis Borges told a story: as an archeologist digging, uncovering and reporting, from the depths of human relationships, from those places where sublime intelligence passes from shadow to light.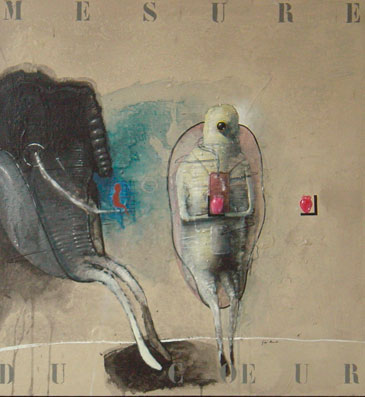 M. GIAI-MINIET La mesure du coeur 61x5x57,5cm technique mixte/bois
Giai-Miniet's scenes are riddled with passages, pipes and the pulses of different organs, which are for … circulation of vital fluids ? … and traversed by diverse forms of being – humanoids or successors of Mickey Mouse or other. These, wearing gas masks and protheses, are themselves the objects of transformations. He creates a realm of the unnamable and monstrous, ruled by a facetious hand. Fearful, the onlooker wishes to start away but is held in place, fascinated by a black humor that recalls the literary surrealism of Italo Calvino or Edward Lear: a sublime esthetic emerges between this fear and fascination.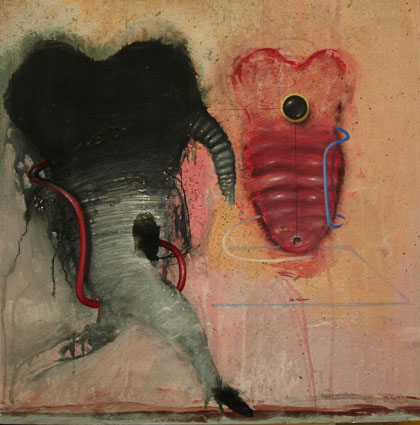 Marc GIAI-MINIET L'invention du corps  technique mixte/ bois 60x60cm
BIOGRAPHIES
Pierre Dessons
B
orn in 1936, Pierre Dessons lives and works in the near-Paris suburb of Joinville-le-Pont. Both a painter and sculptor, Dessons creates fantastic and recurring visions of great analytical subtility.
Just finishing up shows with Galerie Lefor Openo, Paris, and Galerie Artrial, Perpignan, Dessons has featured in a large variety of salons and events, most notably, the Salons Grands et Jeunes, the Salon de Mai and Les 109 and individual and collective exhibitions, including, most recently:
Galerie Sauvage Dumas (Luxembourg) "Questions d'humanité", 2016
Galerie Mathilde Hatzenberger (Bruxelles), 2016 and 2017
Halle Roublot, Fontenay-sous-bois (France) - prix Arcité 2016
Galerie ART Aujourd'hui Paris, 2014 "Figure de l'Ogre"
Château de Vascoeuil (Eure), 2014
Marc GIAI-MINIET
A
lover of myths and symbols, Marc Giai-Miniet was born in 1946 in the ancient town of Trappes, now part of the complex of the « new towns » created in the western suburbs of Paris, where he lives and works in his family home.
A graduate of the Ecole Nationale Supérieure des Beaux-Arts de Paris, a painter and engraver, he has turned his hand to ceramics and « boxes » for his Borgesian and Kafkaesque world. He has created two small private publishing ventures, Ca Presse, and Le nain qui tousse (Id Press and The coughing dwarf), which publish poetry and engravings. In 2000, he was named Chevalier des Arts et Lettres.
He has participated in, among others, the Salons: Grands et Jeunes d'Aujourd'hui, Réalités Nouvelles, Comparaisons, Jeune Peinture, Salon de Mai, Salon de Montrouge, Biennale des Jeunes, Mac 2000 and Biennale 109. His work has featured in a wide range of collective and individual shows of painting, engraving and design in France and abroad. In 1974, Giai-Miniet created the association Regard Parole to promote art culture in the new towns in and around his native Trappes.
Giai- Miniet's most recent shows include:
Galerie Sauvage Dumas (Luxembourg), "Questions d'humanité", 2016
Galerie ART aujourd'hui Paris "Figures de l'ogre", 2014
Artlet Studio, Münster (Germany)
Abraham HADAD
B
orn in 1937, Abraham Hadad was professor at the Ecole Nationale Supérieure des Beaux-Arts de Paris from 1977 to 2002 and today lives and works in Paris and South of France (Gard). Hadad won first place in the Prix de peinture – Vitry 1972 and since then his work has been a critical success, now figuring in the collections of the Fonds National d'Art Contemporain, Paris ; the Musée d'Art Moderne de la Ville de Paris ; and the Bibliothèque Nationale de France. Over the years, Hadad has participated in, among others, the Salons ; Réalités Nouvelles, Comparaisons, Biennale 109 and Paris - Artcité. His shows and permanent exhibits include :
Galerie Sauvage Dumas (Luxembourg) "Questions d'humanité", 2016
Galerie Marie Vitoux Paris, 1990 to 2014
Galerie Lefor-Openo Paris, 1992-94-96
Jörg HERMLE
B
orn in Berlin in 1936, Jörg Hermle is a graduate of Universität der Künste, Berlin. Since arriving in France in 1961, he has split his time between Paris and the southwestern Lot region.
Hermle began his career as a graphic artist before teaching drawing and painting technique at Université de Paris I (Sorbonne).
Hermle has participated in salons such as the Salons de Mai and d'Automne, Figuration Critique, Comparaisons (there leading the «Expressionnisme» group), Biennale 109 and Grands et Jeunes. His work has featured in many personal and collective shows over the years, the most recent of which include :
 Galerie Sauvage Dumas (Luxembourg) "Questions d'humanité", 2016, and, earlier, Claudine Legrand (Paris), Goethe Institut espace Condé (Paris), Daniel Duchoze (Rouen)
ART aujourd'hui (Paris) « Dé-figurations » 2013, Galerie Lorelei (Bruxelles), Lefor-Openo (Paris), Deprez-Bellorget Paris, ART aujourd'hui (Paris), L'usine à Zabu, Evreux (France), Daniel Duchoze Rouen (France), Peschken (Krehfeld, Allemagne), Bilan AC (New-York), International Center of Nagoya (Japon), Format 3mx4m (Bruxelles – Zurich)
Images of the exhibition:

Video
(réalisation Pierre Deloffre)
Enregistrer
Enregistrer
Enregistrer
Enregistrer
Enregistrer
Enregistrer
Enregistrer
Enregistrer
Enregistrer
Enregistrer
Enregistrer
Enregistrer
Enregistrer
Enregistrer
Enregistrer