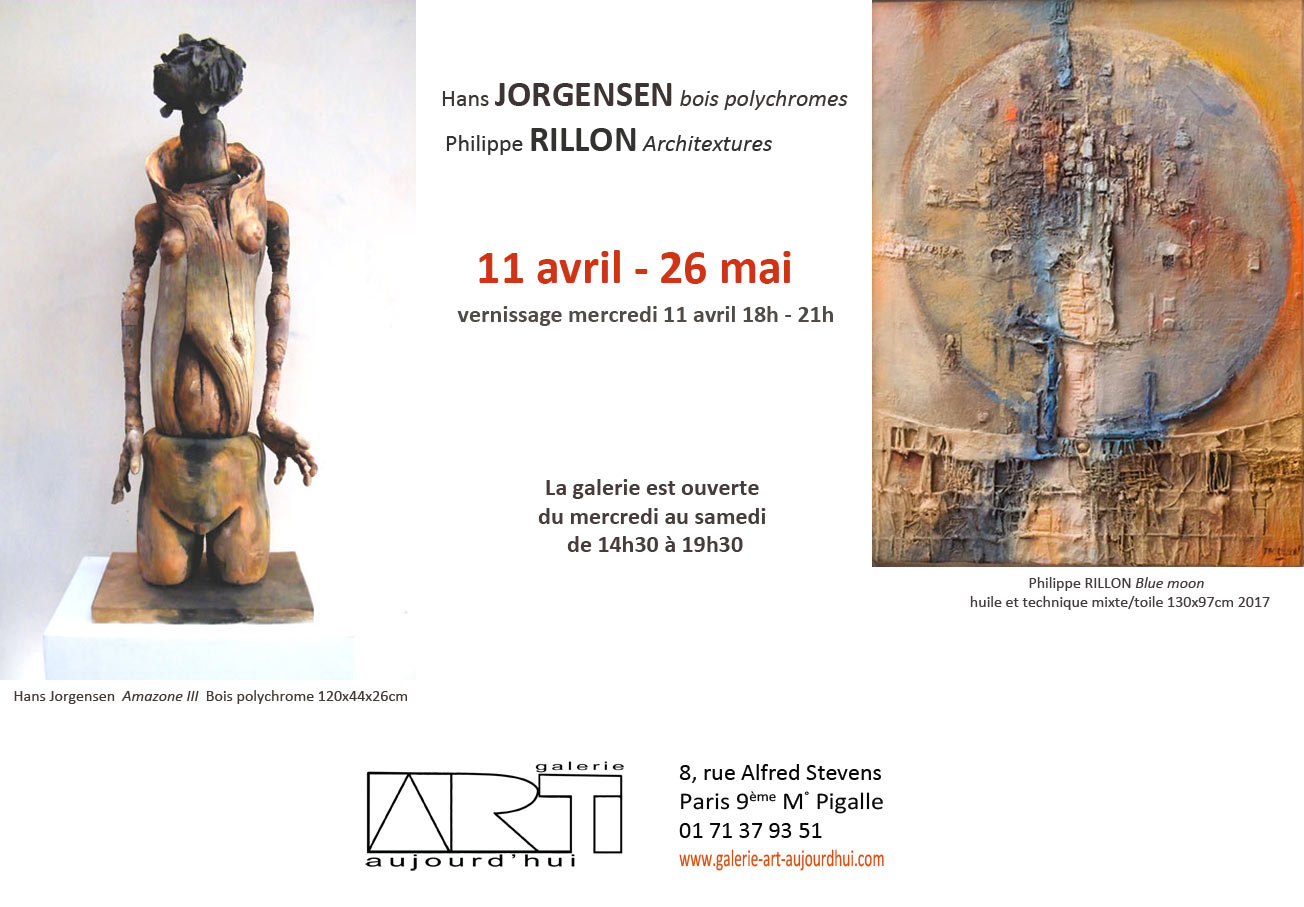 Allready five years since gallery's opening in april 2013! On several occasions we shew Hans Jorgensen's artworks: His polychrome carved woods took part in exhibitions "La part de l'ombre" and "Arcanes de la nuit". Philippe Rillon is Gallery's foundator and art director. Of him we shew "Ancient works" after a first exhibition called "Inner Mythologies" (Mythologies intérieures). Both of them, faithful to their so particular universe, have since, renewed their expression. As authentic artists they are, they refuse routine of know-how. For them as for all artists in our Gallery, each picture or sculpture is a new challenge, an always reinvented new world. So, Philippe Rillon and Hans Jorgensen are constantly evolving. Without abrupt rupture but by slow metamorphoses, Philippe Rillon's Architextures and H. Jorgensen's Polychrome Woods offer us new emotions

Hans JORGENSEN
Hans Jorgensen sculpts wood in direct cut. From twig to trunk sculpture begins with meeting and selecting in the forest more or less evocative tree fragments. Then he cuts, sands, sculpts a thousand ways these pieces of wood whose assembly gradually draws shape of sculpture. Finally, he covers all the sculpture with a discreet painted polychromy that participates of the figure itself and adds it an incandescent intensity of life.
"For me, a sculpture must have its own vitality," he writes. This vitality is not given in advance, it is improvised and built throughout the dialogue between the artist and the wood's living matter. The creative act follows fibers, veins and knots to give birth to sculpture.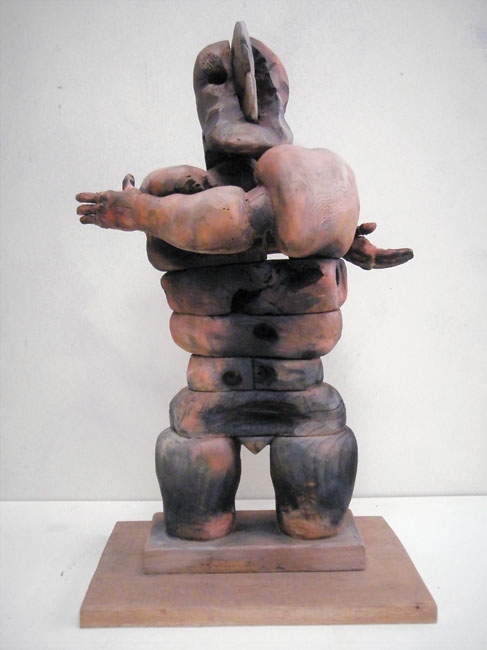 Hans Jorgensen Amazone IV  bois polychrome 61x25x36cm.

From these subtle interlocking, are born prodigious and legendary creatures. Warriors and Amazons, powerful caracters, expressive and archaic, are bruised since wood's flesh from which they come. Sturdy and virile amazons, warriors, sometimes massive, sometimes fragile, these paradoxical creatures look like a world adrift. They express feverishly, derision and pity, pain and joy.

Philippe RILLON
Philippe Rillon's Architextures, oil paintings with mixed media, on canvas, or on paper ("Improvisations") are made high paste and raw matter. Charges, papers and glues of all kinds, pieces of canvas, are woven, sewn ... Various materials call each other, to give painting an augmented reality and thus improvise a very present structure, solid and subtle at a time. The texture imposes itself and submits shapes and colours to its requirements.
         Philippe Rillon Improvisation IV mixed technic on paper pasted on board. 

Each painting is ressearch for a plastic balance which, like the weft and warp of weaving, intersects opposed forces. A tension is created between the elements, and reveals the mysterious presence of a supernatural power, magical, secret and hidden from view. A light emerging from depths of canvas, muted colours, with sometimes sudden appearance of a mask, and, everywhere, an unnameable presence reinforce mystery of the artwork within so many paradoxes. And always, facing our eyes, the eternal enigma of time.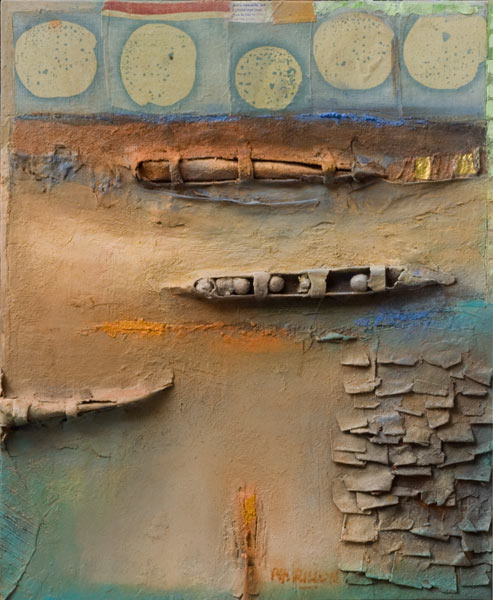 Philippe RILLON Talisman oil and mixed technic on canvas 55x46cm 2017

Biographies
Hans Jorgensen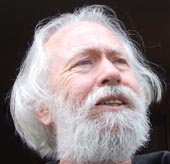 Graduated from Copenhagen Fine Arts School in 1976.
He devotes himself to painting and stays for several years in Morocco and Spain, where he produces many exhibitions.
Settles permanently in France in 1990, abandons painting and devotes himself to sculpture.
Exhibits in numerous galleries, in France, Germany, Belgium, Switzerland etc. of which recently:
2013: - Jakez Gallery, Pont-Aven - Égrégore Gallery, Marmande.
2014: - Galerie de l'Ane bleu, Marciac (Gers, France)
- J.Marc Laik Gallery, Koblenz (Germany)
2015: "Miroir de l'art" Prize, Artcité Fontenay - Gallery "Le coeur au ventre", Lyon.
- Galerie ART aujourd'hui, Paris, "La part de l'ombre".
2016: Salon: "Passage à l'art", Cherbourg (France)- Galerie ART aujourd'hui, Paris: Exhibition of small formats - Galerie Égrégore Marmande, France.
2017: -Galerie ART aujourd'hui, Paris: "Arcanes de la nuit" - "Ils en font des têtes!" (collective exhibition) - Gallery Le coeur au ventre, Lyon - Mosaic, Pont-Sainte-Marie, Aube - Mayhaus Gallery, Erlach, Swiss.
Works permanently: - since dec. 2013, Galerie ART aujourd'hui, Paris. - Alain Daudet Gallery, Toulouse.
Philippe RILLON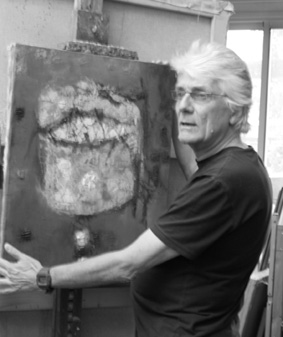 Born in 1949, studied at the Ecole Nationale Superieure des Beaux-Arts in Paris from 1966 to 1971 (DSAP).
Numerous individual exhibitions in France and abroad including:
1984 to 1995: Galerie Visconti, Paris.
1994 to 2001: Galerie Florimont, Lausanne.
Other personal exhibitions in Rouen (D. Duchoze), Aix en Provence, Amsterdam, Paris etc.
2004 to 2010: Galerie Valeurs d'art, Paris.
Creates Galerie ART aujourd'hui, in April 2013 and since, is responsible its artistic direction.
April-May 2014: Galerie ART aujourd'hui, Paris, "Mythologies intérieures" - January-February 2014: Galerie ART aujourd'hui: "Ancient Works", with Bernard Thomas-Roudeix.
Numerous collective exhibitions and participations in the Salons d'Automne, Mai, Comparaisons, Jeune Peinture, Montrouge, MAC 2000 …
Public collections:
National Fund of Contemporary Art, (FNAC), Paris
Hôtel de la Monnaie, Collections de l'ATSCAF, Paris
Hecho Museum (Hecho, Huesca, Spain)
Cities of Gagny, Saint Ouen and Clichy sous Bois (93), Champigny sur Marne (94).
Figure in the books of G. Xuriguera (Mayer edict).
2006: Preface by Christian Noorbergen for catalog of exhibition "Architextures".
2012: Creates 75 Chinese ink wash on Jean-Noël Cuénod's haikus: "Le goût du temps", Editions Samizdat, Geneva, March 2012. The book received the Rilke prize, (Switzerland, 2012). NB: "Le goût du temps" and its original edition are permanently available at Galerie ART aujourd'hui.
Images of the exhibition
And the video of the exhibition
Enregistrer
Enregistrer
Enregistrer
Enregistrer
Enregistrer
Enregistrer
Enregistrer
Enregistrer
Enregistrer
Enregistrer